Friday, November 01, 2013
April of 2012, we decided we would like to get some chickens. We got 6 chicks; 2 Buff Orpingtons, 2 Plymouth Rocks, and 2 Rhode Island Reds. By the end of July we were in need of a chicken coop. My husband had a pick-up cap that he was no longer using. We decided to use it. We dug the 4 corners to put in posts and set the cap on top of the posts. We put sheets of plywood up for the lower walls. Then we fenced in an area for them to run around outside. Inside we created a roost. For nesting boxes, we used 2 old egg crates that my grandparents used when they sold eggs on their egg route. each egg crate was divided in half and made 4 nesting boxes. We have a little door in the back that leads to their outside area. We close it at night during the winter so no predators can get them. We have a door in the front that grants us access to feed and water them and to gather eggs.
I let them out in the backyard some during the nice weather. They see me as their Momma and just follow me back in.
This past April we decided to get more chickens. We got 3 more Buffs and 3 more Reds. My niece wanted some of her own, so she got a Red and another Plymouth Rock.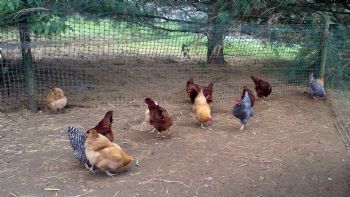 So now the little ones are grown and laying eggs too. My husband thought the new Plymouth Rock was a rooster, but it looks like she has been laying eggs.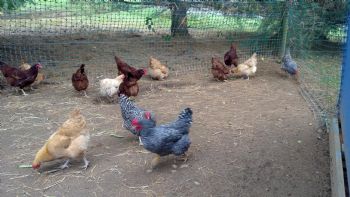 We get anywhere from 2 - 8 eggs every day. We give eggs to our family and sell the rest.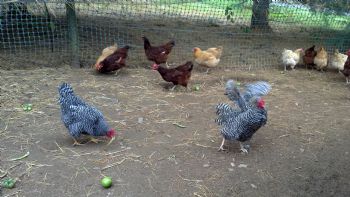 We feed them cracked corn in addition to their regular chicken laying crumbles. The cracked corn gives the eggs a bright golden yolk. My Aunt thought there was a difference between store eggs and ours because of the color. I told her it was because of the cracked corn!! The chickens also love to reap the benefits of our garden. They love it when our veggies start to spoil, because they get a treat!! Our dog also like it if we find a cracked egg. She loves to have an egg broken over her dog food!!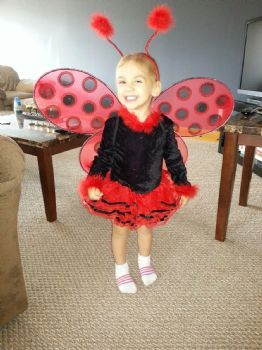 If the chickens aren't enough to destress me, ther is always my Lainer Bug!!