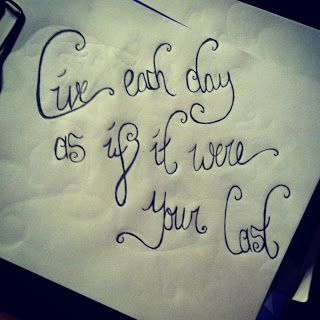 We've all seen motivational posters along these lines: "Live each day as if it were your last!" It's allegedly supposed to be an exhortation to live each day to the fullest.
Well now hold on there just a minute, pardner. If you suddenly found out that today was your last day on this earth, what would you do? I know people say things like "Oh, I'd tell my family I love them" and "I'd go someplace special" and all this other mess. Yeah, yeah, yeah. That's cool and all, but you know what would actually happen? Panic. Mass panic. That's what would happen. You would most likely be so paralyzed from the overwhelming sense of futility and all the things that you meant to do and now won't have a chance to do it. You'd spend the day sitting on the couch as your family ran around you screaming in utter turmoil, or, if you're like me, you'd just go sit outside and wait for it. I mean, really, what's the sense? These are the real reactions of doomed people.
You can argue with me all you want, but if somebody came up with definite proof that by sundown you'd be daisy chow, it'd be too late to hike the Great Wall, and all that would be left to you was a few awkward phone conversations, and maybe letting your next of kin know where the will was.
Are we supposed to live every day like that? I don't know about you, but that doesn't seem to be very healthy to me. In fact, this whole exhortation of "live each day as if it were your last" is very unrealistic. Every time I try to live a day like that, I end up getting nothing done and feeling overwhelmed by the horrible disappointment of it all, and how I'm wasting my life because I'm not seizing the day and climbing Mt Everest or winning the Nobel Prize or whatever. It's hippie feel good nonsense, that's what it is. Go ahead and send me hate mail. I'll let my cat answer it.
Conversely, the exhortation of "There's Always Tomorrow" is utter bunkum, because eventually we all run out of tomorrows. Yeah, you can be sitting there on the couch (or more likely, I can be sitting on the couch) and think "well, I didn't exercise today, but I'll pick myself up and get back on that wagon tomorrow." There's no sense of urgency in that.
So there you have it. We're either given an overwhelming sense of urgency, or we're given what amounts to a free pass to get around to it eventually.
"But wait!", I hear you say. "You can't just criticize both of these homilies and not have a solution! That's not fair!" Life's not fair, sweethearts, but unlike most of my rants, I do have a solution, and it is simply this: live your life as if you WANT there to be a tomorrow. Tomorrow isn't always guaranteed, but if you live like there's no tomorrow, it sets you up for disappointment and failure. If you live like there's always a tomorrow, you won't really be motivated to get anything done. Not really. Come on. Deep down, you know I'm right. But if you life your life like you want there to be a tomorrow, you'll be more likely to take care of the little things TODAY and take steps TODAY so there will be, if there is meant to be one, a better tomorrow. For instance, if I was convinced there was no tomorrow, I'd go get me a pumpkin scone at Starbucks along with a trenta white chocolate mocha full fat frappuccino, then go to Joe's Pizza for dinner. Because it wouldn't matter any more. But because I want to have a tomorrow, and preferably not one that includes a quadruple bypass, I'm not going to do that. I had a skim milk cappuccino and an egg white breakfast sandwich instead (which is tasty), thank you very much, and I'm having vegetable stew for dinner, which seems to have improved over the last 24 hours in my fridge, miracle of miracles. Conversely, if I thought there'd always be tomorrow, I probably would have driven to my piano teacher's house to drop off my lesson fee money to her instead of take a quick bike ride around the neighborhood in between appointments. I also would have gotten a pastry at Starbucks instead of that breakfast sandwich. But, because I want there to be a tomorrow for as long as I can get them, I rode my bike, and I had an egg white sandwich. So there.
Once again, it seems that we find that the middle ground is the healthiest, which I think is what this site is supposed to be all about.
End of rant. Thank you and good night.