As most of my friends know, I flew up to the DC Metro Area to be with my Mom who was in a coma at the hospital. (Last night, she was moved to a hospice in Arlington, VA.) I returned to Florida on a break this past Tuesday and will go back shortly.
While in DC, this fundraiser was taking place, and I found the time to take part. It was the first time, I'd ever run a race in the area I called home since 1958! This race was monumental for me.
Dawn, Washington DC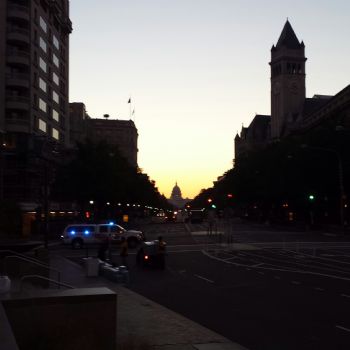 Pennsylvania Ave from 13th St new.
Race Volunteers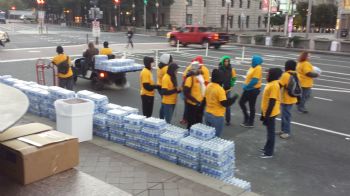 Preparing to hit the water stations, & finish line.
The Old Post Office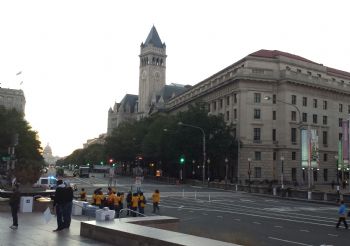 In 2013, the U. S. General Services Administration leased the property for 60 years to The Trump Organization, who will develop it as Trump International Hotel Washington, DC.
Race Stations on 14th & Penn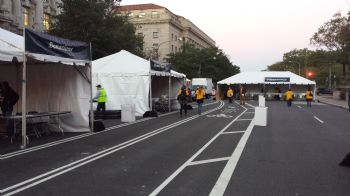 Whitman Walker Mobile Unit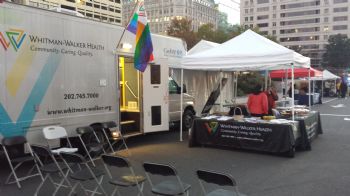 Non-Profit Producer of this run which will benefit their programs.
The Pennsylvania Ave Starting Line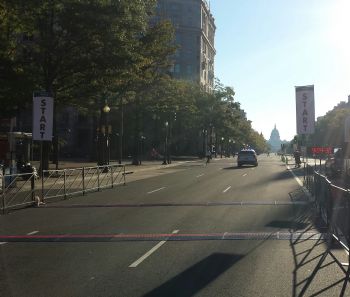 and Finish Line!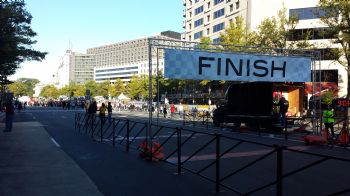 Pre-Race Freedom Plaza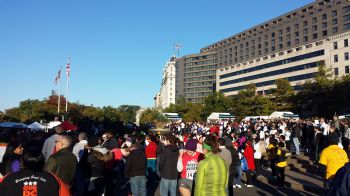 Just to the right of Freedom Plaza.
National Theater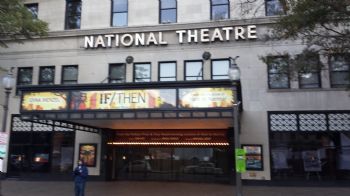 One of the places I miss about DC.
John A Wilson Bldg Race Stage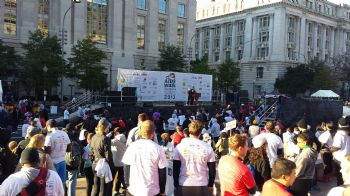 Offices of the DC Mayor & City Council.
Eun Yang, Emcee, AIDSWalk Program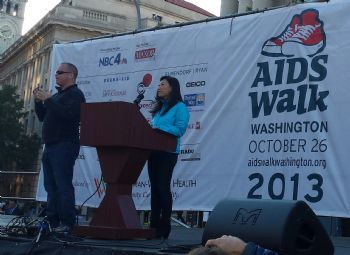 Morning News Anchor for NBC4/WRC-TV, DC
Eleanor Holmes Norton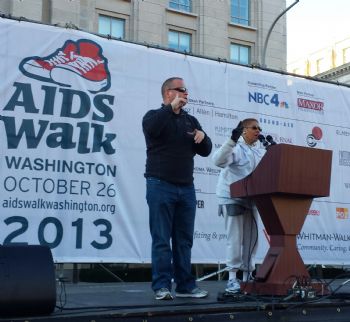 DC Congresswoman
Vincent Gray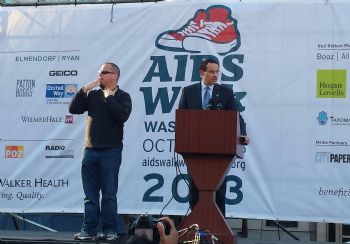 DC Mayor

The Course Main Stretch
I decided to line up just behind the Elites. A father & his children came up next to me to deposit their 11 year old girl in the race. I think they were getting her nervous. I asked her dad what she clocked a 5K at...27minutes & change! I looked at her and said I was going to run behind her for about a mile then I'll pass out quietly on the side of the street. That made her laugh. I said good luck and she said "U2!"

When the air horn went off, I did follow her up Penn Ave, west on 3rd St, north on C St, East on 4th St and then I started to see her step it up on Independence Ave. (at about the 1.5 mile marker u-turn)

I was really surprised at how I good I felt and kept a steady pace as I hit east returning on 3rd St. Turning north and back on Penn Ave, I started to feel my stomach get uncomfortable. That took me a bit off focus but with about a half mile to go, I saw the finish. There were walkers who had just started the race and were cheering us coming down the stretch. (The unofficial estimates were 2000 running & 5000 walking.) I tried to give it my all and crossed the line triumphantly! (Missed a new Personal Record by 15 seconds!)

It was an emotional finish for me at so many levels. Everything hit me at once, my mom, D not being there, and the fact that I did this first race in DC. I started crying and went off by myself to compose. I turned back to the finish, and started to cheer the runners crossing the finish. I started to embrace the race again and it felt good.

After the last few 5Ks I've run, I've discovered a few things and will use them to my advantage in the future. I drove back to my mom's place, showered, met my sister who returned from checking on Mom, and we went to brunch. She told me she was proud of me and Mom would have been as well. I'm holding on to that.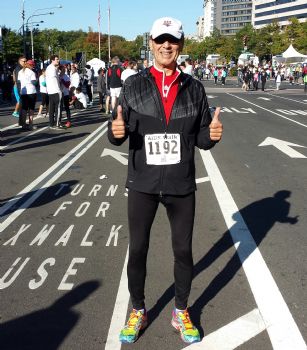 Thanks for taking the time to read this blog. I also want to thank everyone for their support as it gives me strength. Much love...
Monty