The other day I was excited to go for my walk in the sunshine. Almost the moment that I stepped out the door, the clouds rolled in. By the time I reached the half-mile point, the showers started. As I continued on face into the rain, I noticed a glimmer of sunlight peeking through the clouds. I knew that there was good possibility that I would see a rainbow opposite that sunlight. So I turned around and saw this.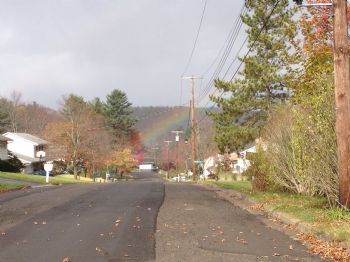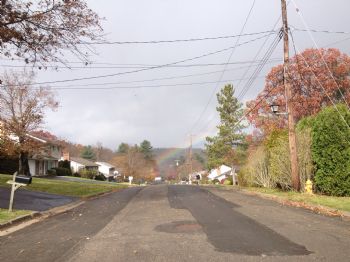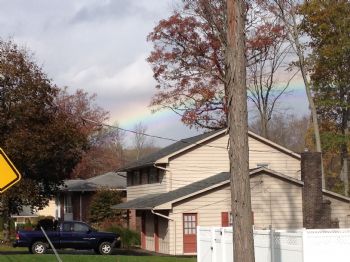 My little phone camera couldn't do it justice. It was spectacular! I'd never seen a rainbow so close to the ground before.
That rainbow spoke to me (no, not literally) and taught me a few lessons.
1. Don't give up or take only the easy paths. Sometimes it takes a little adversity to bring about beauty. If I had stopped walking when the clouds rolled in or the showers started, I would never have seen that rainbow.
2. Sometimes you need to gain a new perspective. I could have bowed my head into the wind and rain and continued on. I would have faced that adversity head on, but I would have really missed out. By simply turning around, I saw the world in a whole new light.
3. Stay flexible and don't be afraid to slow down and enjoy life. I was on a walk, not a jog that day. I wasn't focusing on my pace or moving on as quickly as I could. I took the time to turn and look for the rainbow. I took the time to enjoy that sight and let it lift my spirits. I even took the time to take a couple of photos. Overall, those moments I spent admiring the rainbow didn't really impact my workout, and they had a profound effect on my well-being. If I had been so focused on my pace that I didn't want to "waste" any time, I may have missed it all.
4. Keep your promises. God sent a rainbow as a sign to Noah of his promise to never flood the entire earth again. He didn't promise Noah that there would never be any more hard times. The rainbow can also remind us of our promises to ourselves. We've promised to get healthy, to lose weight, to get fit. We never promised ourselves it would be easy. We never said that we wouldn't hit a dead end or blocked path at some point. We need to remember what we promised ourselves; turn around at the dead end and take the other fork in the road or find away around those things blocking our paths. It won't always be easy. It will always be worth it.
Keep looking for the rainbows!