Wednesday, October 30, 2013
First, I'd like to thank everyone that left a comment on my blog yesterday. It was a rough day. More than missing work, I felt shaken and disturbed by how easily I could force myself to vomit. It brought back all those memories from years ago. I cried for 2 hours and then fell asleep. I'm doing better today but I think I looked at myself in the mirror and I saw a different person. With this in mind, I have changed my goal weight.
While I was gone yesterday my coworker signed me up for the trick or treat event at work. After dinner I'll be making zombie cupcakes. I also tried on my golden Renaissance Festival gown and it fit. Or maybe it never really looked as good as I remember. The bodice is all wrong. I will buy a more beautiful and form fitting gown at the Fair. Tomorrow I will wear this to work.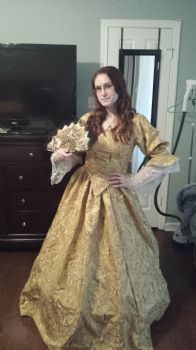 The weigh in went well. I am down 2.2 lbs this week making my current weight 142.6 lbs. In 16 weeks I have lost 34.4 lbs. Next week I will reach my 35 lost benchmark. The weight I lost this month is 100% pure body fat according to my body composition report. BMI is now 22.3 and my body fat dropped by 3.2% this month. Total inches lost so far is 34.4.
I've been thinking about my weight over this past week and yesterday really put into perspective what I want. I fit in all my clothes again. I fit into my gown. I'm happy when I look at my reflection. I brought my thoughts to the Medifast counselor today and she agreed. My new goal weight is 135, not 130. This new goal will be reached many weeks before Christmas. As of tonight's weigh in I now have only 7.6 lbs left to lose.
Let's travel to 4 months ago....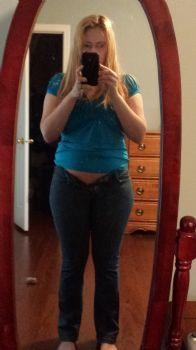 177 lbs and extremely unhappy.
Now:
Then: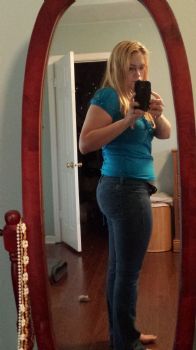 Now:
I did it.
They fit.

It's 55 days until Christmas.