As I mentioned yesterday in a status update, I received a free Jawbone UP. How did I get so lucky? By being a nice person, that's how!

Seriously, though, a colleague at the Alliance for a Healthier Generation had some to give to away to good partners, and she thought of me.

The Alliance has a partnership with Jawbone to sell special orange ones, and they get a donation for every one that is sold.
https://jawbone.com/alli
ance
I knew this was coming for months, and have been checking my work mailbox every day with anticipation. Yesterday it came!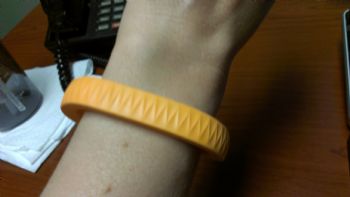 As you can see, it is ORANGE. Now I love orange, and am wearing clothes that it doesn't clash with today, but it's not very discreet. It's bigger than I thought it would be. I wear no jewelry, ever, so wearing this big rubber band might take some getting used to... Or it might come off permanently. The best thing about it being free is that if I don't like it, there is no buyer's remorse!
I am most excited for its sleep tracking function. The first thing I did upon waking up today was to plug it into my phone to sync so I could see what it said about sleep. Here's its first report: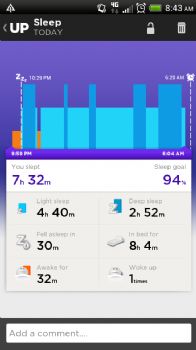 Can you read it? It said that I had 7 hours and 32 mins of sleep, and woke up once.
Once I have it awhile, I will post another blog of my impressions.