Thank you Spark for reigniting me
Wednesday, October 30, 2013
OMG is all I can say this morning. I open my blog spot to post and there is my blog from yesterday and it is the "Member Featured Blog". I have been on Spark for almost six years. I have never reached my goal weight. I came close but just couldn't touch it. I have gained back up to over where I began this journey, and today i'm still working on ME. I know this journey is a work in progress and it may be for the rest of my life. To see my blog, my words to me really, as a Member Featured Blog is awesome. The first actually. I have to thank Spark for re-lighting my fire a time or two and keeping me at least if not at goal in the right mind to reach my goals.
Yesterday morning my walking partner and I headed out for a three mile walk.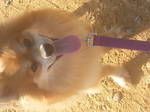 The weather was awesome the trees just beginning to turn here in the south, and the sun shining bright. I really don't believe there is any other way to begin the day.
So as I head off to begin my new day and maybe reach a goal or two again I want to say Thank you.
Michelle