For Christmas in 2010, my in-laws gifted my family their Wii Fit. We set it up in January 2011, not long after I got serious about my weight loss journey. The first time I stepped on it to weigh in (Jan 6th), I was dismayed to discover that it showed 6 lbs higher than my bathroom scale. For the duration of my weight loss journey, I have used my scale's measurement, rather than the Wii, simply because I've used that scale almost daily since I first bought it in 2000, and all my weight milestones (good and bad) have been recorded using its readings. I did not want to change all my numbers, especially my highest weight, to reflect a weight 6 lbs higher.
The Wii's scale is closer to a doctor's scale, and is probably closer to my actual weight. Jason got me a digital scale last Christmas, one that measures body fat and muscle mass, and it also shows 6 lbs over my bathroom scale. Still, I record my weight per my bathroom scale. I mark my milestones - moving from obese to overweight, and then to a healthy BMI - per the bathroom scale. The point of this? Well, even though I got to a healthy BMI back in March, per my bathroom scale, my Wii kept telling me, "That's overweight!" whenever I used it to weigh in.
I rarely weigh in on the Wii anymore. It's just too much work, plus I have two other scales! But I do step on it maybe 2-3 times per month, just to record the downward trend. In the beginning, nearly three years ago, the line-indicator would go all the way to the top of the graph, the very top of "obese." I figured it would travel down through obesity, but it didn't. For a long time, it just stayed there, stuck at the top, even as my BMI decreased. I remember the day that the indicator stopped just a hair from the top, and then how it began to sink lower and lower through the obese range as days and weeks passed, and eventually proclaimed, "That's overweight!" instead of "That's obese!" It felt wonderful.
And now, now that I'm in the 140s on my bathroom scale, I've reached another Wii milestone: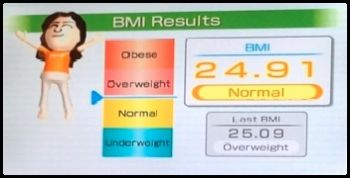 "That's normal!"
Instead of my Mii looking down at her body in horror, she jumps up in the air a few times and claps her hands. (She's jumping up in the picture, if you can't tell.) And that...that's awesome!
Current: 149 lbs
Jan 1st goal: 145 lbs