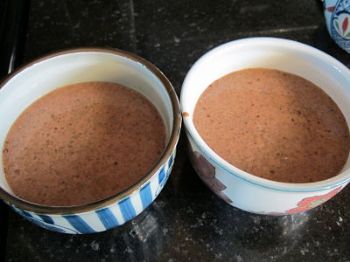 When I first heard about chia pudding, I was totally - well grossed out is the only phrase I can think of. The "chia pet" song kept running through my mind and I just imagined breaking out in little chia blossoms. (That goes back to a 1950's horror movie I saw once about mushrooms - but that's a totally other story).
Several Spark friends on The Plan team encouraged me to try it. They said things like "so good" and "just like pumpkin pie." So I tried it with a can of pumpkin, two cups of 80 calorie coconut milk, assorted spices (cinnamon, nutmeg, cloves, or just use pumpkin pie spice) and 6 tbsp. chia seeds. Or, what you see in the photo is two cups of coconut milk, two tbsp. raw cocoa, a tbsp. BP2, cinnamon, cardamom, nutmeg, 1 tsp. vanilla, and 6 tbsp. chia seeds.
I make a vanilla version (don't add the chocolate, BP2, and spices) that tastes just like tapioca pudding. I found white chia seeds online so that it doesn't look "green" when you're done.
The key is to let it sit in the fridge overnight so that the chia seeds get really thick and glutinous.
I know. Sounds awful. Tastes pretty good. The recipe maker here tells me that the way I put it together, each 1/2 cup serving is about 230 calories.
Goodness me, I forgot!! There's the aging brain for you!!
Add a quarter cup of raw honey, agave, or a tbsp. of beet rock sugar, or some other sweetener (or add to taste). I don't like stevia and won't use the artificial sweeteners. The 230 calorie recipe includes the quarter cup of raw honey.