Monday, October 28, 2013
I have been celebrating Stinky's birthday all weekend. It is hard to believe that he is 2!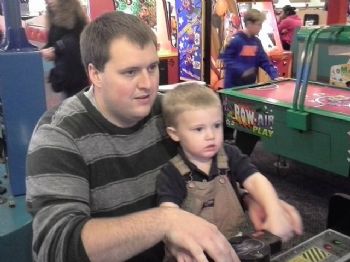 Saturday we took him to Chuck E Cheese for the first time. He was overwhelmed at first, but finally warmed up to playing some games and had a great time. I don't know if he was having more fun, or if it was his dad. Yesterday, his actual birthday, I stopped by after work and celebrated with balloons and cupcakes. He is having a sleepover with me tonight, and we will continue to celebrate tomorrow when we go to my mom's house. Whew!
The other news I have to share is that we found out the gender of my new grandbaby today.... It's a boy!!!! My DIL was a little disappointed at first, but now they are both thrilled.
As far as how I have been doing, I got another visit from TOM again this week. (the second time this month) I had all the fun things that come with him, but hopefully now I am back on the way down. I weigh in the morning and am hoping for great things, but I also know that I have not worked out as much as I should have. I have been eating very well, so we will see....