For about twenty years I ate the same thing every day for breakfast - two multigrain Eggo waffles and about a quarter cup of Polaner's Pourable Fruit - apricot, strawberry, or blueberry. The first thing to go wrong was that all the groceries in this area stopped carrying the Pourable Fruit. For a while, I was able to order it by the case. Then it all just stopped. So I stuck to my waffles and used sugar-free jam. And then I decided to get off Metformin (oral medication for diabetes 2) and discovered that I couldn't do my processed wheat waffles.
All the grain breakfast foods were out of the question for me. And of course, I wasn't going to eat my father's daily fare - bacon, eggs, and toast - for obvious reasons. For a while I tried yogurt and Grapenuts, but found I had a terrible blood sugar spike from that. I ate half a sweet potato for breakfast for months - can't even look at a sweet potato anymore.
So when I stopped eating/drinking protein supplements, breakfast was a problem. What to do? Then thanks to some Spark friends, I found Lyn-Genet Recitas' The Plan. Without going into the whole long spiel about The Plan (there's a Spark team on my Info page if you're interested and want to check it out), two of her breakfast recipes have saved my life. The first is homemade Flax Granola. Here's what it looks like: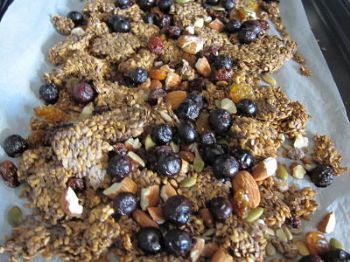 I love to cook and I'm one of those "handfuls of this and that" cooks, so I've messed with The Plan recipe. Here's what I do:
1 cup of dark flax seeds
1 cup of golden flax seeds
1 tsp. cinnamon
1 tsp. cardamom
1/4 - 1/2 tsp. each ginger, nutmeg, cloves to taste
1 cup filtered water
Mix that all together, cover it, and refrigerator for at least 8 hours. I make it up right before bedtime and it's ready to go in the morning. Spoon the mixture out onto two cookie sheets. I **always** use parchment paper 'cuz otherwise the seeds stick to everything including foil. The mixture will be sort of thick and I flatten each spoonful out like a cookie.
Bake in a 325 oven for 20 minutes. Turn the "cookies" over and bake another ten minutes. Then add:
a handful of crushed raw almond
a handful of raisins, currants, dried cherries without sugar, or dried cranberries
fresh or frozen blueberries
raw sunflower seeds
raw pumpkin seeds
And bake at 200 for another ten minutes. I usually let it sit in the oven for half an hour to cool before putting it in an airtight container.
Serve one cup (this recipe makes about 5-6 servings). With a third of a cup of coconut or 80 calorie almond milk, it makes a tasty "cereal" for about 300 calories.
Let me know if you try it!