Well, my first day back to "sparking," and the night-time cravings have already rolled in. Apparently this is war right from the start. I tried 2tbsp of mint chocolate chip ice cream that I had in the freezer (I need to clean out my cupboards) hoping it would cure my cravings, but it didn't seem to do a thing but make me want to eat the whole tub.
Then I remembered something I had read by my favorite female fitness trainer/blogger. I've grown to respect her and her husband (her husband is a doctor who studies the effect of hormones on your metabolism and weight loss--too bad I haven't been putting into practice all the stuff I've been reading, right?!).
Anyway, the one blog she wrote basically sold me on trying a drink made of raw, organic cocoa powder that is supposed to work on a chemical level to stop cravings and increase the "feel goods" in your body, like dopamine and endorphins. I also remembered that because of her advice, I had picked up a canister of it the health food store. So, I figured, what could it hurt?
2 tbsp of cocoa and some boiled water, and voila!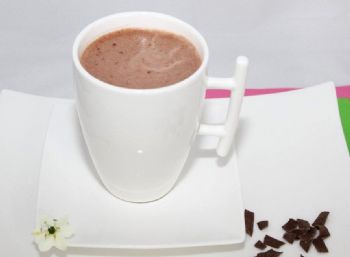 First sip.... not going to lie, it made my lips pucker. Added a packet of Stevia. Second sip... better, but still a little bitter. Another packet of stevia, a dash of cinnamon, and a couple drops of vanilla, and it was palatable. Not like a candy bar by any means, but still not bad. 5 minutes later and it was gone.
I think it's going to take a couple weeks to determine how I really feel about this drink, and if it seems to work for me, but I can say right now I have no desire to go back to that tub of ice cream. I feel like I wouldn't even want to eat it if I could. This could be in part from now feeling a little satiated from sipping on a hot beverage in general, but whatever the reason, I am grateful.
I will keep you updated on how it goes. And if you'd like to read one of the articles I'm referring to, here is the link!
www.metaboliceffect.com/
bust-your-cravings-with-co
coa-and-other-tips-from-th
e-craving-queen/