Monday, October 28, 2013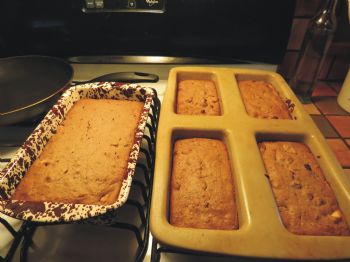 I've been baking lately. I have made persimmon bread, fresh apple bread and a blueberry pie.
Someone asked about how I make my persimmon bread. I'm one of those cooks who really don't use recipes so I don't know exact measurements but this is basically what I do for my apple or persimmon bread.
I mash about 1-1 1/2 cups of persimmons ( this is American persimmons not Japanese)
I add about 1 C. sugar, 1 stick of melted butter and 1-2 eggs and beat all together. I add 1tsp. or more cinnamon (we like alot in ours) 1-2tsp. vanilla flavoring. 1 T or more of sour cream. Bean well and add about 1C. fine ground pecans and 1/2 to 1C. raisins. Then I start adding self rising flour until it is a thick batter. I spray my loaf pans with Pam. And dump it all in and bake at 350F for almost an hour. For apple bread I had about a pint jar of my homemade apple sauce and peel, core and chop up about 5 granny smith apples. I supstitute all this for the persimmons..With that much apple sauce it makes more batter.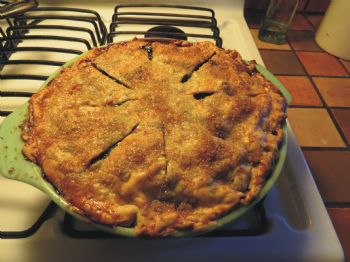 For any fruit pie I use the pilsberry pie crust in the dairy case. I hate making pie crusts and this turns out much better than any I make. I line my pie plate I've Pammed with one crust. In large bowl I mix my fruit about 1 C or less sugar, spices (cinnamon for apples, lemon or almond flavoring for peach or blueberry. I dump in about 1/4-1/2C. corn starch. Berries take more as they produce more juice when baking. I mix this well and pour into unbaked pie crust. I dot it iwth butter and then layer other crust on top. I cut slits in the top then brush with beaten egg and sprinkle with raw sugar (it is coarse ground) but you can use plain sugar. Bake at 350F for almost an hour. I put a baking sheet on bottom shelf below the pie to catch drips. I always bake my breads, pies and cookies on the top shelf. I have a gas stove so seems to bake better there without burning.