Brian is running an ultra-marathon in January and wanted to go check out the route via bike. It's around (and around and around..) a 7 mile long trail around a lake in Winston-Salem, NC about an hour and a half from home. The weekend plan was to head up there to check it out and see what he's up against.
We were going to do this on Saturday but Sunday was supposed a lot warmer so we opted for the bike ride on Sunday instead because in his sick little mind it's better to run 18 yes eighteen miles in the cold than bike.
So Saturday morning dawned chilly and cold. We stalled as long as possible over breakfast and the paper but were both getting antsy. There is a point when you either need to head out the door to run or bail on it and get a shower. I was planning on 7 which is reasonable.
I got to the park about 2 miles from the house to discover that the entire world had turned pink. A two day Avon walk was going on. I'm supportive and all but this spurred me on, best to run faster and get out of there before they are turned loose on the city. I heard the National Anthem and some cheering and got away just when their race started.
Brian said he got caught in it some but rerouted to stay out of the way. We did see them later when we were going to the grocery store. We honked and whoo hooed out the window to get them all riled up - fun.
Sunday morning, off to the lake. It was just beautiful. We had packed a lunch which I was lugging since I have a backpack with a waist strap. We didn't end up stopping except for a couple of times like when I saw this heron and just had to get a picture: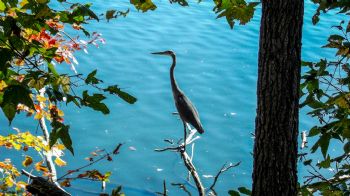 And a shot of him biking down what we soon discovered was a dead end: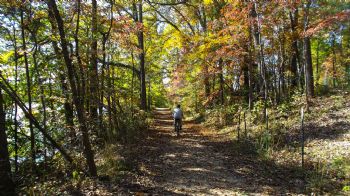 and my bike against the tree while I waited for him to discover that he was heading down a dead end:
Then all the sudden we were back at the car. It was a little before noon and we had never eating the magnificent feast I had been lugging along the entire time; PB&J, apples, cheese, and crackers. I asked if he wanted to do another lap and this time actually stop to eat but he pointed out that he ran 18 miles the day before and would rather head on home.
We got home about 1:30, plenty of time to finish the plumbing project. It all started when we were so pleased with ourselves for fixing a leaking sink. The day after we did that the faucet in the shower started dripping. We thought it would be a similar repair - wrong.
Last weekend we got it all apart and discovered that not a single home improvement store or plumbing supply place in town has this part. The house was built in the 1950's and I fear this is original plumbing. I found the part online, it came in this week, so yesterday we took it all apart again and discovered that the part I ordered online isn't going to fit either.
We put it all back together - oh well.
Then I stuck the dog in the tub. I turned on the water - nothing. I hollered down the hall because I just figured that Brian had not turned the water back on - wrong. The sink had water, the cold tap was fine, no hot water. It turns out that some little screw broke off in the part that we can't seem to get replaced. We can only turn it on and off with pliers.
awesome
We have another shower, but we never use it. This morning I figured out why. It's sort of a tile cell, very dark, and not much water pressure. The plan was to go get a new toilet for that bathroom, we had the one in the other bathroom replaced last year - train wreck both of them. One was pink and the one we still have is avocado.
We figured while we have a plumber here he might as well fix the shower and put in that toilet.
My dad is retired now, but he was a contractor. From time to time I remember him always saying that when you get into remodeling work you just never know what you're going to find. He liked new construction better. Actually he tried replacing the toilet last year, we had to call a plumber then too. Dad explained that we have the same plumbing they had on the Mayflower and he didn't know how to work with it. The plumber we called had to make two trips back to the shop for parts before we were up and flushing again. Maybe I should have remembered that before we dismantled the shower.
But the bike ride part was fun.