MY WORLD TRAVELS YESTERDAY
Monday, October 28, 2013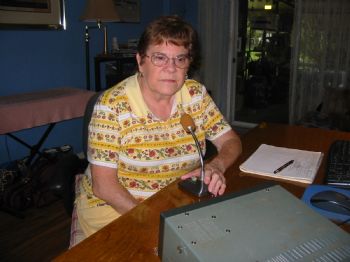 Hi everyone. As I wrote before, I am a licensed ham radio operator. Over the weekend there was a contest going on where you try to make as many contacts as you can in a 24 hour period. Well, I didn't stay up for 24 hours nor did I take it seriously as many hams do. I basically scanned the frequencies when I felt like it and in-between football games and during half time. When I heard another ham calling," N3OMO contest." I used my call sign as an example. I didn't call contest. What I did was "pounce" on that signal heard calling contest and I called back to him with my call sign. It is not as easy as it sounds because there are many, many others wanting to make the same contact. The one with the best signal gets through. When so many are trying to get to one person we call it a "pileup." Many people are talking at once trying to get through.
You have to be patient and keep giving your call sign out. I thought I would post the places I traveled Saturday evening and Sunday afternoon.
1. Slovak Republic
2. Venezuela
3. Brazil
4. Canada
5. Washington State
6. Virgin Islands
7. Mass.
8. Texas
9. Martinique Island
10. Puerto Rico
11. Nicaragua
12. Bonaire Island
13. Curacaro Island
14. Barbados
15. Cyprus Island
16. Costa Rica
17. Columbia
18. Cork Island
18. Spain
19. Cape Verde (In the Atlantic Ocean)
20. Russia
21. Scotland
22. Croatia
23. TN.
24. IN.
As you can see, you can travel the world from your own "Ham Radio Station" or "Ham Shack" as it is called in the comfort of your own home. I actually made 28 contacts, but 4 more were in different places in Canada. My husband, who is a ham as well, has erected two very good antennas. Of course we only use one at a time. He has his own radio or rig as well.
Hope you enjoyed traveling along with me.
N3OMO