I hate grocery shopping. I really do. But I KNOW that if I don't go into the work week with healthy options for lunch, I will end up bingeing. As an added incentive, my DD's pediatrician told me Friday that the reason DD has been getting dizzy and having blurry vision is because her Vitamin D3 is extremely low. I knew that Vitamin D3 helps prevent osteoporosis, but I had no idea it also helps regulate brain functions. In addition, although Chelsea has enough iron in her blood to not be considered anemic, she has virtually no stored iron in reserve. Regardless of whether I wanted to go shopping, I knew I had to go get vitamin supplements for her.
Chelsea came with me, and as usual she kept me laughing! I put on my serious face and told her we were only going to get healthy, low calorie food...NOT junk! She took out her cell phone and snapped a picture of me with a bunch of beets.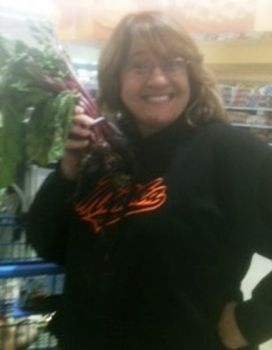 Ha Ha! Very funny!
We decided to try some new fruits, and Chelsea opted for seckel pears instead of bartlett.
"Hey, look, Mom! It's a cheramoya!"
"What's a cheramoya?"
"I don't know...let's try it!"
"But it's $3.99!"
"But...it's a cheramoya!"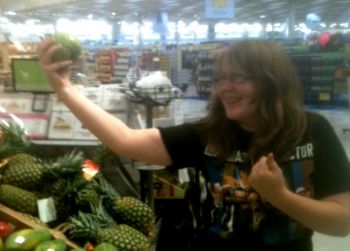 Ok...you convinced me...now I just have to figure out what to do with it!

Back to the vegetables. By now we were really getting silly.
ATTACK OF THE DANDELIONS!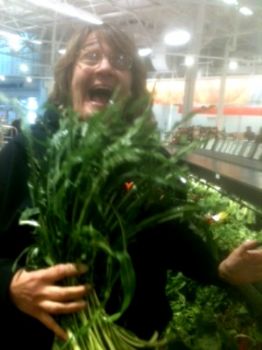 (Yes, people were starting to look at us funny!)
Out of Quaker oatmeal, but instead of buying more, we opted for steel cut oats, which we have never had before. (This is not her normal smile, by the way, she was just being a goofball!)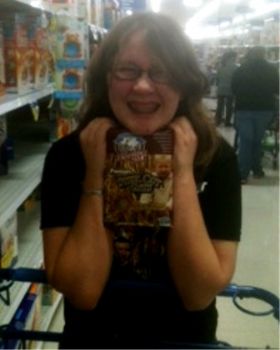 Vitamin supplements...calorie controlled frozen dinners for work...vitamins for DD...papertowels...and at last we were DONE!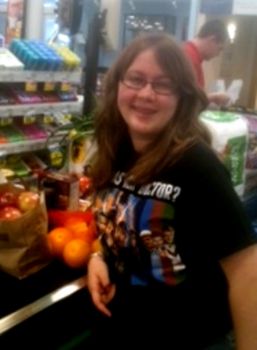 I guess grocery shopping can be fun when you are with the right person!