I used to skip breakfast. I used to eat almost a full day's worth of calories at lunch time. I used to snack shortly before bed almost every night. I used to drink four glasses of wine, maybe a beer too, before finishing with a glass of scotch or cognac at all family functions. I used to hold my stomach in as tightly as I could to give the illusion that I was thinner than I really was. I used to eat so much my stomach felt like it would burst, and then I'd eat more. I used to spend 30 minutes or more each morning struggling to find something to wear that didn't accentuate my ever growing waistline. I used to get extra large reese peanut butter cup blizzards on a weekly basis. At the end, in the last months before I retook control of my life, I used to go buy small birthday cakes every other week, and polish them off by myself over a two evening period... when no one was watching... telling myself that I was killing myself with every single bite, but not being able to stop myself. I used to tell myself that I needed to change, but then I would acquiesce to the lie that I just couldn't help myself... and so I didn't. I did nothing. For years I let get worse, and did nothing.
And then I pleaded with myself... to do something... to not let my life be wasted in a secret misery.
So now I wake up around 6:30am every morning to make sure I have time to eat a regular breakfast and get to work early. Now I eat lunch at close to the same time every day and make sure that it affords me a safe buffer of calories to eat without stress in the evening. Now I drink one glass of wine at most functions - with the rare debauched evening here and there. Now I rarely take more than I need at dinner - enough to simply satisfy, with maybe three stuffed feelings in the last four months (all planned). Now I have energy to run circles around my son - to pick him up and toss him in the air as he loves. Now I spend maybe four minutes picking out clothes in the morning, feeling confident and looking athletic in every thing I put over my skin. Now I look forward to social events, my timidness in unleashing my personality and humor upon my friends and family is completely gone.
Now I see that our futures are merely the end result of the choices we muster the strength to make today, ones we choose to follow through with as if there simply is no other choice. There is nothing that we haven't the strength to overcome - nothing that given time, and patience, and desire, and love, that we cannot see come to pass in our lives. If you want something bad enough, if your heart desires something with it's entirety, and you start walking toward it with all of your focus, then now I know that it is only a matter of time before you'll reach that destination. Come what may... you'll get there. Don't lose hope. Never lose hope. It will happen. Maybe not today, maybe not in a month. Maybe it will take years for you to get there, but if you'll walk that path every day, and don't let the times of darkness scare you off that path... then you'll get there, and the journey will have been worth every single second.
Random musings late on a Saturday night. Hope your weekends are going incredibly well.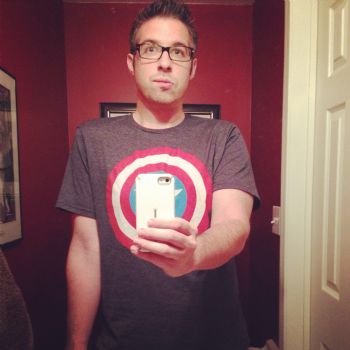 198 lbs. Thirteen more to go. Officially switching my mind onto thoughts of maintenance.