Sunday, October 27, 2013
I have gotten my second 5k under my belt, and feel awesome for it. I only walked it, but I finished and was proud. It was 31 degrees outside, plus drizzle, and 20-30mph winds. But I told myself I would get off my butt and do it. I looked like a stuffed pumpkin in my layers though I think, but I wasn't alone at least. My sister braved the weather with me. And after the race we spent the day with her family at our house, and she cooked and then cleaned up afterwards. I haven't had anyone do that for us in a long time. It was nice. And definitely nice to be able to spend the day with family. So a very long day to say the least, but worth it. And just realized today isn't day 398 it is 399, apparently I am actually up past midnight. A rarity. Better get some sleep I suppose. But here is a picture of me all bundled up before the race.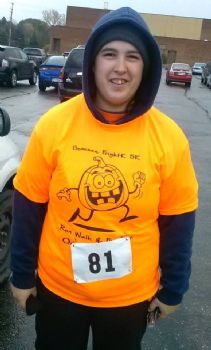 Have a great week everyone.