Question about advertising on Sparkpeople??!!
Saturday, October 26, 2013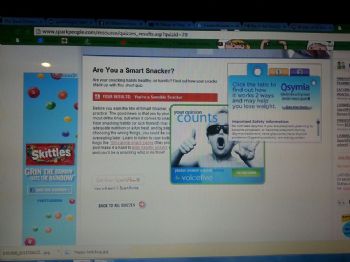 I've been curious and more curious about the advertising on Sparkpeople. I want to firstly say I am NOT complaining. I'm just pointing out a few things that rub me the wrong way. I find it strange to advertise Skittles candy (look left on picture) and prescription Qysmia diet pills (middle right of picture) on a site that promotes HEALTHY change of life. Now I'm not trash talking anybody who takes diet pills (although I find that an extreme way of doing things) nor do I have anything against "tasting the rainbow"...I just find it odd and out of character for this purpose of this site. YES, I realize that SP is free and only because of advertisement do we get the benefits of this site...however I want to say it really doesn't take that kind of mentality to bring people here. I think it's like believing if you eat a big slice of chocolate cake, you can wash away the calories by drinking diet coke. Now that is just SILLY thought process and probably how a lot of us get into the predicament we were in to come here in the first place.
I'd like to also say I appreciate the HEALTHY advertisements I've seen. Such as the Progresso soup 30 day healthy eating challenge. I encourage Sparkpeople to do more of this type of advertisements and less of the others. Believe it or not, WE DO WATCH ADVERTISEMENTS! That is how I purchased my Fitbit was after I saw an ad on SP.
Please, let's encourage Sparkpeople to do business with integrity and not just take what they can get to keep this site going.
Sorry if that sounds harsh, but I am a Sparkie and I want to continue using this site and I want to give suggestions to keeping it real here.
Spark on people!!