Last night was my DD's "Sweet 16" party. It was a night of accomplishment and choices that perhaps could have been better. The good: I spent the whole day cleaning

, and it felt GREAT to have the former playroom devoid of clutter. The not-so-good: I did eat a piece of pizza, a piece of cake, and a little ice cream, which I hadn't planned. BUT I'm okay with it, because your little girl only turns 16 once, and the night was so memorable that it is hard to be mad at myself. It was one day amongst many.
We started by taking the girls to the mall for a photo scavenger hunt. The girls were split into teams of 3 and were supposed to take pictures on their cell phones of items on a list related to my DD or being 16. Some of the items were: a Doctor Who item Chelsea doesn't own, something she would never eat, a stranger holding up a "Happy Birthday" sign, car keys, and the number 16. They all had so much fun! (Chelsea is the one in front with the big smile on her face).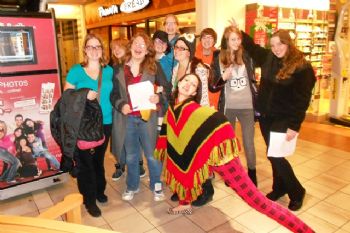 When we got back home, we had cake and ice cream. The cake was made by my Sister-in-Law, who put the frog on a British flag because my DD loves British guys and the theme of the party was "You have to kiss a lot of frogs before you find your handsome prince."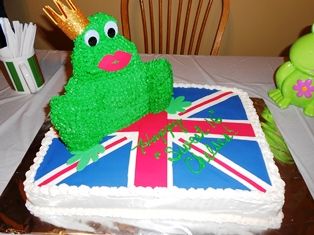 We then had a trivia contest to see who knew the most about Chelsea and a "Kiss the Frog" contest (like "pin the tail on the donkey" but with lipstick and a picture of a very ugly frog!)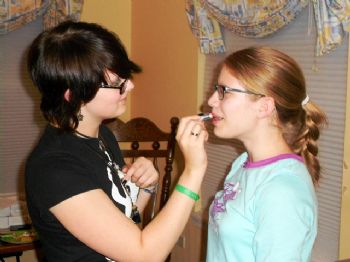 One of Chelsea's friends sang her a song for her gift, which was so sweet!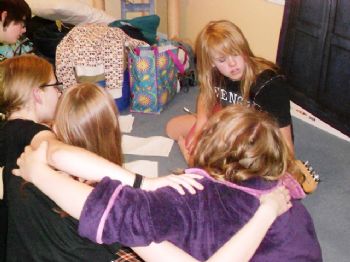 The ladies then decorated pillowcases with fabric marker (each brought her own home) and signed one for the birthday girl.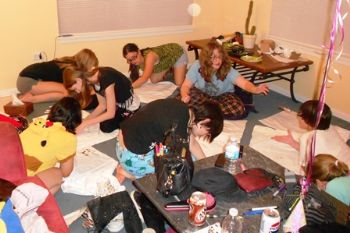 I crashed around 2:00, but they were still going strong.
At 7:00 AM, my livingroom looked like this: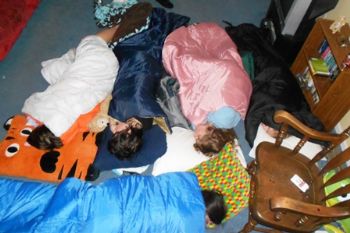 As a mom, it made me so happy to see my daughter happy. I love that our relationship is strong enough that I knew the kinds of activities she and her friends would enjoy. I hope we always stay close!