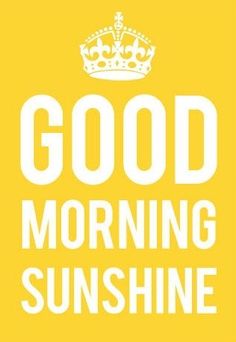 It's a bright and beautiful Morning.

The bright red pineapple-scented sage just started blooming. The giant golden yellow dinner-plate dahlia is still in bloom and the roses are busy perfuming the air. Hummingbirds swoop down fighting over the flowers. Yellow finches are busy eating the purple verbena flowers that grew like weeds all around the yard.

Buzzy bees are busy collecting the nectar. It's beautiful.

Good Morning !!!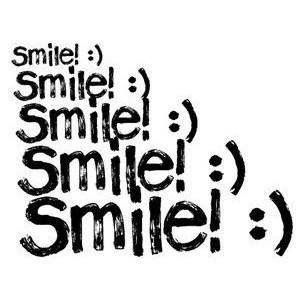 Whoo Hoo It's Friday - Time to Celebrate.

Today I am going to make COCONUT CREAM PIE. A Real one. I feel like glowing with happiness when I eat it.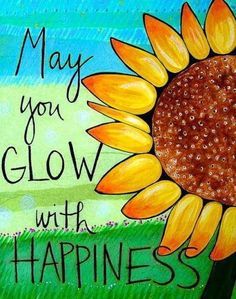 No fake boxed, artificial ingredients mix for us.

I love this recipe. When I searched for recipes years ago I didn't know that you could make one out of coconuts. LOL. The flavor is so different, so yummy.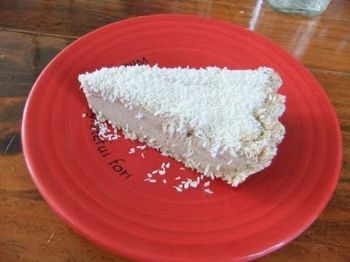 It tastes so YUMMY, Delicious, oh, so good for you.
The crust:
2.5 cups of dry coconut flakes, unsweetened.
1/4 tsp. vanilla
1/8 tsp. pink salt
1/4 cup of well-packed, finely chopped dates. Or substitute Agave nectar for a white crust.
Put everything in a food processor and process until it stick together. Press into a pie pan greased with coconut butter.
The Filling:
1 1/4 cups of coconut milk. I use what is in the white young coconuts sold at the grocery store. The processed canned stuff tastes different.
3/4 cup of young white coconut meat. From the inside of the coconut. Scrape it out with a spoon.
Agave nectar about 1/2 a cup. Add according to desired sweetness.
1/2 tsp. vanilla.
2 pinches of salt
3 tablespoons lecithin sold at health food stores. Helps to emulsify flavors.
1/2 cup plus 2 tablespoons of raw coconut oil.
I put all the filling ingredients in a blender or vitamix and blend until smooth put in refrigerator or freezer until firm about 1 hour.
I keep it in the refrigerator once firm and ENJOY.
I found a video on how to make it. They use dates, but the recipe is about the same. I like the look of a white coconut cream pie so I use agave. http://www.youtube.com/watch?v
=GoGx-vN8ZKQ
This is what a young coconut looks like.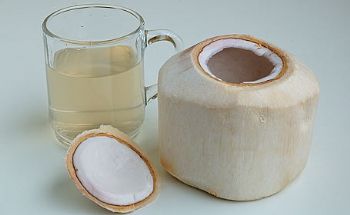 Save the liquid in it and use it for the coconut water or milk in the pie. Young coconut water is very tasty. The boxed, canned stuff tastes different, not as good.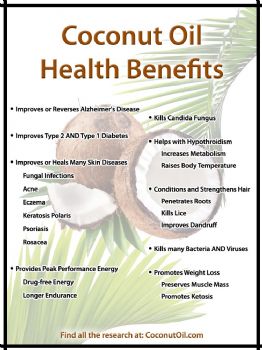 This is what the flesh of a young white coconut looks like. You blend it for the filling of the pie crust.
If you need help opening a coconut look for the instructions online. I use the back of a corner of a big cooking knife. I hit the top of the coconut around the top in a circle over and over again until I break through. Then I pry it open with a spoon. There are photos online that can explain it better and many different methods. When you pour the juice out pick out any pieces of shell. Also pick any shell off the flesh that you use in the pie.
Yesterday DH took me to an Asian market. It was a learning experience. I found lemon grass stalks for $1.25 a bunch. Turmeric root for juicing was $4.00 a pound. They were out of fresh coconuts. They had frozen young coconut flesh like what you scoop out of coconuts for $1.25. A package is enough to make one pie !!! What a savings it will be to only have to purchase one coconut for the coconut water. I also found other ingredients you can't normally find at regular grocery stores, so I can make new recipes that I have always wanted to try. The Asian grocery store was very reasonably priced and they were very nice, answering my questions.
Don't use coconuts that look like these. They are too old. The flesh will be hard, too hard to use in the pie and the coconut milk or water tastes old. It's not yummy at this stage.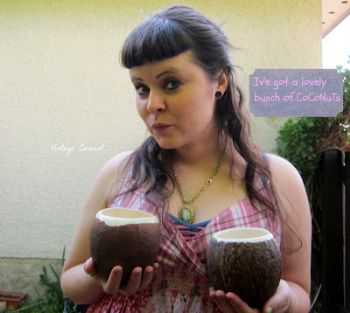 Press your control button and the + button at the same time to enlarge the print to read.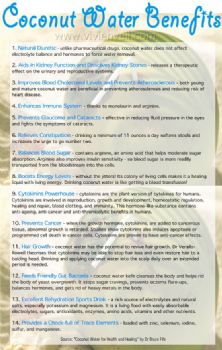 Yesterday step count was 11,000. The day before was in the 7,000 range.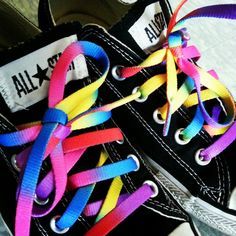 Have you ever tasted a coconut cream pie made from scratch?