This morning I got up did my morning yoga video, made myself a Chia Tea latte, and sat down to start raking up some sparkpoints. While in my pursuit I came across this article
www.sparkpeople.com/reso
urce/nutrition_articles.as
p?id=1436
Boy did it resonate with me this morning!
See I have this problem. I have a split personality (not really) and she comes out in the form of a famous hairy blue character we all know and love from sesame street. Yes I am talking about cookie monster. I love cookies. Really I love baking. And by enlarge I love the end result. But there is something I find magical about my own ability to create something that tastes close to what I imagine heaven will be like.
And I love adventurous baking. Not of my own creation of course, but I love reading baking blogs and trying new things off them that look to die for.
Well yesterday I indulged a little blog reading and found several types of cookies I was dying to make. It was so hard for me to resist the urge. I did end up making cookies, but they were of the healthy persuasion. No flour, sugar, oil, or eggs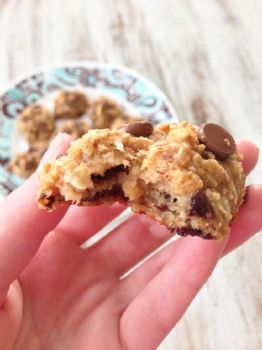 Quite tasty but to be honest it didn't quiet my inner cookie monster or my need to bake.
Reading this article this morning helped me to realize that my needs here were more about my emotions then anything else. I know, right, you're shaking you head thinking you didn't see that already??
Maybe I did but when I read this an overwhelming feeling of sadness just rushed over me. I realized that there have been some things that I used to love doing I let go of. I stopped journaling as much. I stopped mediating. I have been pushing my feelings to the side a lot lately thinking there was no resolution so no need to deal with them.
But even if I can't solve them I still have to acknowledge them. I need to allow myself time to be sad. And express how and why it is I am sad. And even if my perfect possible outcome is not an option I need to find new ways to think about it. Which is what I was doing....about 3 weeks ago. But I went through my weight loss slump and time of the month and I felt a little hopeless at first so I just told myself to push through and ignore everything else. Focus on what I can do and not how I feel. It carried me through. But it was not the healthy way to deal. And now things have just been piling on my emotional scale and today it feels like a very overwhelming load. So my goal for today is to mediate, to journal, and to accept/deal with the problems that have been plaguing me. Because being healthy isn't just about acting the part its about allowing your mind to take part in it too.
I hope everyone has a healthy and festive weekend!
(sorry about all the mistakes, I was in a rush to get my kiddos of to school and writing this made me late as is :))