Friday, October 25, 2013
I wonder how much people smile sometimes; I wonder how much we time, we humans actually enjoy life and enjoy one another and have opportunities for our smiles to come naturally. I'm thinking that for all of the crazy "selfies" posted with silly faces, that we don't spend much time authentically smiling with pleasure deeply rooted in ourselves. And....I'm wondering if that doesn't reflect on this healthy living journey of ours - food in is comforting somehow, someway. There was an article on the blog talking about the addictive nature of sugar. I wonder if sugar is the secondary addiction - the food itself going in our mouth like an infant sucking on a bottle - if that is the comfort and security that we desperately crave in a world out of control. Here's the quote of the day: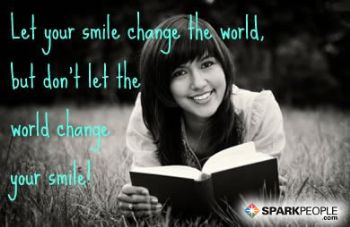 I'd suggest that we've allowed the world not only to change our smile but we've allowed the world to stomp on our smile, on the pleasure of being alive as it transmits a message that we're not good enough - financially, physically, spiritually, academically and on and on and on.
I'm thinking it's time to reclaim our smiles, our inner satisfaction with who we are right now - not necessarily perfect, not necessarily where we want to end up, but taking stock of who we are in this moment and say: I'm okay and this is what I want to work on in this moment. Hmmm....to think when I procrastinate on ironing yet another pillowcase....to say I'm okay...in this moment I need to move beyond procrastination to get the job done....or in this moment I need to spend time on this project instead of ironing in order to take care of me....or in this moment I choose an alternative other than food to face my current procrastination for which I feel guilty. Uh oh....cutting in there pretty close. Time to smile at my dilemmas...perhaps laugh at my quandries and be thankful for what I have. Oh well...that's enough philosophy for the day. Have a good one - You and Me.