Friday, October 25, 2013
Today's a special reminder that progress is not a straight line. It's not a math equation. It's one day forward. One day oops. Three days forward. One meal oops.
It's because life- life happens. I was derailed by a pregnancy and some bad advice that took my 3kg (6.6lbs) gain from pregnancy and escalated it to a whopping 9kgs (19.8lbs). I wouldn't trade Babyboops in for a better body, but it is what it is, and once again I am a stranger in my own body.
Here's my little graph of weightloss. The first arrow is when I became pregnant, the second when I birthed.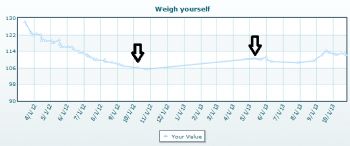 Of course, I weigh in kilograms so thats why I have such "small" numbers.
Le sigh.
But things are getting better. I can now button my size 16s. I get severe muffin top, but they are buttoned. And this means that I am leaving my fat clothes in South Africa, and heading to the US with nothing but the clothes that currently fit or are one/ two sizes smaller.
So, all that to say, be encouraged today. This meal matters. The next one matters. My success will not be a straight line and neither will yours.