Well, my asthma is letting loose it's grip. I still have 'tight lungs' but the pain in the back of my lungs have let up.
I realized something last night. I know that the dairy and fall allergies have a lot to do with the severity of my allergies, but it just dawned on me that my lungs have really been clamping down severely in reaction to stress. My stress has been (extremely) high lately, and this is the worst asthma I have ever had in my life. But, even before this really bad episode I have been noticing that when the stress gets bad from Chuck that my lungs will clamp down.
This most recent round of stress is over medical issues, most particularly spending hours and hours on the phone dealing with conflicts over insurance NOT paying things. Health insurance says they want you to be healthy, but then they destroy your health by creating so dang much stress by having to fight with them over payment of medical expenses. And, so round and round: they don't want to pay, and then they end up paying MORE because the stress creates more medical problems that require more doctors visits. Like my having to get to the doctor yesterday over this severe flair-up of asthma. And, then the high doses of steroids will once again increase my glaucoma, and eventually that will require treatment… Round and round… Oh, and the meds I am now taking for my asthma also increase blood sugar, blood pressure, lower adrenal function,
Course the insurance companies would be just as happy if 'ya just dropped dead, and they didn't have to pay anything at all any more.

Last night I started on a Ayurvedic supplement I had ordered, called Triphala.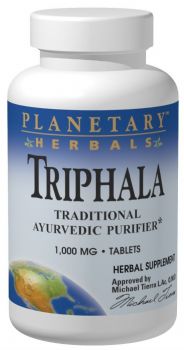 It has these benefits:
*** Has anti-allergy properties (really important for my asthma)
*** Lowers blood pressure
*** Lowers blood sugar
*** Is expectorant
*** Potentiates adrenergic function (helps the body recover from stress)
*** Is anti-inflammatory (constituents include Vit. C and quercetin)
* Has anti-viral properties
* Has anti-bacterial properties
* Has anti-cancer properties
* Improves digestion (help to stimulate bile flow and peristalsis)
* Reduces serum cholesterol
* Is antioxidant rich
* Improves circulation (cardiotonic and capillary strengthening flavonoids)
* Exerts a marked heart-protective and cardio-tonic effect
* Improves liver function and is liver protective
If it is taken in the early stages of glaucoma and cataracts, it proves to be beneficial as well.
So, Triphala can help counteract many of the side effects of the medications I am having to take for my asthma. Still, the BEST DEFENSE against the side effects of medications, is to take effective care of my health so that I do not require those medications. That means getting off sugar, dairy, and gluten, and lowering my stress levels considerably. Regrettably, today I am bingeing in anxiety about going off my binge foods.
Geez, when I quit drinking 37 years ago, I didn't go on 'One Last Drunk'. I just said, "That's it." And, I got the help I needed to quit. No looking back. And, I didn't spend time daydreaming over that new drink, or "Oh, I'd love to have tried that one." Cause that kind of dreaming and drooling would have just kept me drinking.
I remember when I realized I "had" to stop drinking. I didn't want to. And, for a short time I looked at the fancy brandy glasses I had (just) spent money on that I could hardly afford to spend - but felt it worth it for brandy and the 'atmosphere' - and believe it or not I (mourned) the wasted money, and I (mourned) the fact that I would never get to enjoy those fancy brandy glasses, which were literally of no other purpose than having a shot of brandy (on a delicate stem). I decided the only way to deal with it was to get rid of those expensive glasses, because they would only be a constant reminder dragging me backwards towards my addiction.
And, when I quit smoking I didn't allow myself to spend ANY time daydreaming over having a smoke, or what it felt like etc. Cause if I'd done that I could NOT have succeeded in getting off - and staying off - smoking.
And, the truth is, that that kind of drooling over sweets, keeps me stuck in the addiction, and unable or unwilling to let it go. With smoking or drinking I can pretty well stay away from those things, but I will always be facing foods. This doesn't seem to be something I can just 'block out'.
Sure I love sweets. But, I really, really loved smoking too. It was absolute torture for me to quit smoking. But, I wanted to LIVE more than I wanted to smoke. As for drinking; yeah I loved that too, but there it was plainly obvious that drinking was destroying my life, or at least what I wanted in my life. So, I was more able to give that up. But, the thing is: the wrong foods - namely sweets - are destroying my life JUST AS MUCH as alcohol or tobacco; maybe even more so. There really isn't any denying the fact if I am honest with myself. It's just that it is in smaller increments that it is killing me, and so I can *LIE* to myself more easily, and *DENY* the reality. But, SUGAR IS KILLING ME JUST AS DEAD AS ALCHOL OR TOBACCO WAS.
WAKE UP WHILE I STILL HAVE A CHANCE. STOP THE SUGAR!