Thursday, October 24, 2013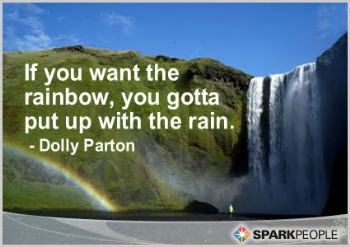 How true. If you want to lose the weight you have to put in the work. Exercise. Watch what you eat. Some days I am very gung-ho and it isn't hard. But those occasional days when I just want to chuck it all - well I have to stop myself and think about these very words. I make myself put in the work to continue on this path that I have chosen for myself.
My brother has a heart condition. Had 3 heart attacks in less than a year. What is truly amazing is that he is the only one in the family who has survived having a heart attack. It's a scary thing. Last year, when my older sister passed away he could not come to her funeral since she passed in the winter and because of his condition he cannot tolerate the cold. It is very dangerous for him. He was very upset by this but knew that he would be risking his own life to grieve for hers. It was a tough time. But by June, when he was able to return we all celebrated her life with him. Anyway I digress. Yesterday he sent me a message about all my biking and walking on facebook. He is one of my biggest supporters. He knows how important it is to keep my heart strong and healthy. And he teased me about next year when he returns again that he hopes he can recognize me since I'm making so many changes. And that has inspired me. I have quite a few months until he returns. My goal was until the end of July and he usually returns in June. I have about half a year to whip this body into a new shape. I started lifting weights yesterday. I need to keep that up. And I'm sticking to my running downhill strategy too. I need to shake up my workout to keep it interesting. I have chosen a new path when I finally got serious here on Spark so it is time to put in the work that goes with that path.