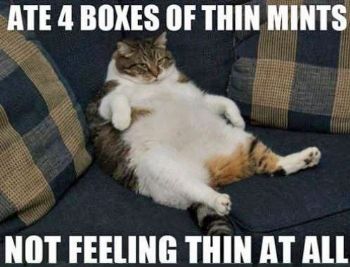 We are down to crunch time here... 68 days left in 2013! If I was forced to sit down and really decide if I am where I want to be at this point this year, I would probably say I came up short of where I wished I would be. But you know what, I'm not going to do that. This is a lifetime journey and I am moving forward, getting into smaller sizes and losing weight... at the end of the day that is a victory to me!
With that said, the year is flying by, and before we know it we will be ringing in 2014!

But before that we have that dreaded time of year where the pounds try to creep up on you!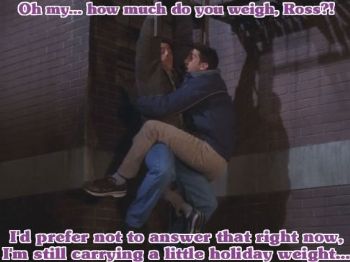 The holidays are great, it's a time of family and fun! But it's also the time of massive amounts of food, and every single get together revolving around it! If we just "ate poorly" ON the actual holidays, it would just be a handful of days. But it's not that simple. Everyone is offering you baked goods or candy, wanting to have you over for dinner on other days, and wanting to feed you all sorts of food. It can be really hard to say no to so much yumminess! It is so easy to get sucked into the mentality that "It's the holidays, and I'm going to ENJOY IT!" By all means we all deserve to enjoy the yumminess of the holidays with everyone else, but there has to be a line somewhere. Imagine if we started that attitude on Halloween? That is over two full months that we could have to pack on the pounds.
With 68 days left I feel like I have 3 options, I can gain, lose, or maintain. Gaining would be the easy and obvious choice, it's the holidays! They only come once a year, right? Why not enjoy and eat every yummy treat that crosses my path? But no, that path is not for me. Maintaining doesn't sound too bad, I can't lie to you. Indulging in SOME treats but keeping a good eye on it so that I can maintain... things could definitely be worse. But I will have a lifetime to maintain when I get to my goal weight... so now is not the time for that. I am choosing to take my power back and LOSE weight during the holidays. I am going to actually set some very realistic expectations for me based on some of the things I have coming up. With about 10 weeks left this year I want to lose 10 pounds. Some may say that is "ONLY 1 pound a week", but to me that sounds fantastic, especially during the holiday times. Not to mention I have another trip to Vegas coming up (still recovering from the first one), and I have a 3 week total vacation. The majority of the time I do better at work because I can't get up and eat whenever I want... but I also have a lot of tempting food at work that can make it hard. It will be interesting to see how I do when I am home for a couple weeks. But I am just going to push forward and do the best I can.
So how about you? What is your action plan to make it through the holidays? It might sound early to be worrying about but it doesn't hurt to plan!


Countdown to 2014: 68 days!
Current weight: 193 (Up a few pounds after vacation)
Goal weight: 179

(I said I wanted to lose 10 pounds but I am not including my "extra Vegas pounds" in the grand total).