...Simply For the Reason That They Are Heavy
Wednesday, October 23, 2013
This week has been a roller-coaster, emotionally. I'm experiencing elation at reaching my goal weight and dream clothing size. At the same time, my ex has been pushing buttons. It's old stuff -- I can't trust her with money (one big reason we divorced), and I suspect she's being financially irresponsible in ways that will affect our daughter, sooner or later. She talks to me with the old tone of voice, bullying and dismissing my concerns. It makes me anxious and irritable. I've had trouble sleeping and find myself engaging in repetitive worrying.
On the other hand, I've got nothing but good things happening in my career and family life, and all is truly well in my world, despite my ex's poor behavior. And frankly, it's hard for me to tolerate all that good stuff sometimes, too. Sometimes, "too much" goodness makes me anxious, imagining the balloon will pop and I'll be left with broken shreds.
So I'm faced with a choice -- I could continue to fret, imagining catastrophic scenarios that haven't happened and probably won't happen. This is what my mom calls "borrowing trouble" from the future. I could stay so wound up that I don't sleep. I could be tense and anxious all day long. When I'm in that state, it's so much more likely that I'll try to cope with the anxiety in old familiar ways. The obsessive worrying and insomnia are parts of a picture that also includes overeating to self-soothe. It's a vicious spiral into deteriorating self-respect and more worry.
I notice that as I think about my old ways of coping, excessive worry and over-eating to self-soothe, the feeling in my body is heavy. That way of being creates tension, blocked energy, tightness in my chest, and a general feeling of "stuckness." Carrying those habits feels heavy, and feeds overweight, too. Those are good reasons to be with the feelings in a new way.
I could take the same situations (weight loss success, pride at work, my ex's antics) and just breathe. I could use the skills I've practiced to create success -- discipline at work, in my weight management program, and in my budget, self-love, rest, exercise, prayer and quiet time -- to manage this intense week.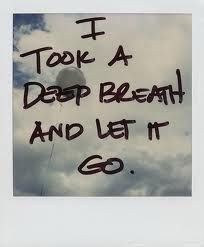 That deep breath feels amazing.
"When I let go of what I am, I become what I might be." -- Lao Tzu
Member Comments About This Blog Post
UNSWEETMAMA
Thank you for sharing this. It helps me. I may have to come back and re-read it.



1393 days ago

SIALIABELL


I find so much wisdom in your blog. I have a quote from a Jewel song that I keep posted on my computer, "Set down your chains." I love it because it reminds me that I have a choice (as your words so aptly demonstrate) to carry the heaviness or let it go. And that is true of everything, including the excess weight. Thank you.


1394 days ago

HABITATVITALITY
Wow, great blog! I'm letting go of some things right now as I type this - deep breaths in, deep breaths out! If you hold closed your right nostril and deep breathe in through your left, apparently that gets the most oxygen straight to the brain! Can't recall where I heard this but it works!


1395 days ago

EVER-HOPEFUL



1396 days ago

DRKYASHI
"Letting Go..." such a simple concept that so many have difficulty with.
to you! And for sharing!


1396 days ago

LINDAK25
Congratulations on reaching your goal! That's fantastic! You've worked hard to get there, enjoy it. Enjoy this time in your life. Yes, sometimes life does get difficult, but it sounds like you're in a good place and have achieved a good balance. I love the "skills" you use to create success! What a great way to maintain your balance.

Your ex sounds like a toxic person (at least at this point in her life). Don't let her toxicity affect you. She has to be responsible for her own feelings and her own problems. You can do this. Hey, you lost 40 pounds and got your life back on track! This, you can do.


1397 days ago

TREV1964
Reading this blog brings me to one of my favourite quotes:

If your arms are full from holding all the baggage form your past
there is no space left in your arms for you to embrace the future.

Cheers

Trev


1397 days ago

HMJ5053
Sounds to me like you X's antics are meant to try to control you and your happiness. That can only happen if you let it. So keep up the good work you have been doing; you will make it. Keep in mind that how you react to these stresses in your life will be a model for your daughter to deal with her own stresses. Give yourself the kind of advice you would lovingly give to her when things aren't easy. She will learn what she sees in you.


Wishing you success in your journey to live a healthier life, physically and emotionally!


1397 days ago



Comment edited on: 10/24/2013 10:11:20 PM
LINDA!
I can relate to your feelings. If I have happiness in my life, I expect gloom and doom around the corner. I go to a therapist. One of the many comments from my therapist about this subject, "Linda, do you like being unhappy." Well, I don't think so. It is difficult to know exactly how to turn this attitude around.

I wish you peace.


1397 days ago

MOVEITMARY
Thank you, I needed to hear that right now. The anxiety part resonated so strongly it brought tears to my eyes. I think I will do a little yoga session tonight and let it go...



1397 days ago

RACEWELLWON


Absolutely - let go of what you cannot control not only does carrying all that sad and unnecessary BS around hurt the waistlines but cause many other healthy dysfunctions in the Mind and Body. Just wish the Ex well and move on .


1397 days ago

PIGGYWAY
I am very glad for you


1398 days ago

_BABE_
I have the same problem with obsessing about that which I really can't change.


"You must learn to let go. Release the stress. You were never in control anyway."




1398 days ago

75HEALTHYME
It is good when you can be your own best friend.
Sounds like you are doing a good job of taking control of how you react to your world.
Keep up the good work, it is WORK, but it pays well. Nothing like good self esteem.


1398 days ago

MOTHEPRO



1398 days ago

MANDYLOVE_76
You can't control others actions. Just breath and be happy.


1398 days ago

REBIRTHDIVA
beautiful. absolutely beautiful!




1398 days ago

AWESOMECHELZ


When you wrote "Frankly, it's hard for me to tolerate all that good stuff sometimes, too", it rang bells on how I used to be. I had to work very hard for a while to change my thoughts around to "Now that I have struggled, here comes the blessings/goodness." Once in a while, I catch myself but overall, I am doing better.

Your X may also be upset because you are doing SO well with your wellness goals and people DO get jealous. I have friends who started treating me not so well after I started to lose weight and get healthier. They are not in my life anymore since it wasn't a friendship anymore. God bless you in dealing with your X and keep up the GREAT work!


1398 days ago

CHRISTASP


A while ago someone posted about forgiveness and how it worked for her to wish the person she was having a problem with, everything that she wanted for herself. She added that we don't have to mean it. Just to say it, state the wish, was enough.
I have tried that with my own 'problem person' and it worked... I did have a shift in my feelings and thoughts and the situation that was so stuck started to become un-stuck.


1398 days ago

HEALTHY4ME

HUGS and sorry you are having issues with your ex.
I hope that your daughter doesn't get too affected by all that is going on. and things can work out for the best.
But have to say your blog about borrowing trouble ( my mum used to say that too! ), and not allowing yourself to get down and eat, or just overwhelmed is so great. I loved it as I am a worrier and obsess over things that yea they might but have hardly ever happened and those that have, hey I am still here and have gotten through them. Thanks for the great reminder that we can get past things.
HUGS


1398 days ago

LESLIE871948
Are you familiar with ZeFrank and his little song online..? Hey, you're ok, you'll be fine, just breathe? This reminded me of that :). I relate.


1398 days ago

PHEBESS
All we can control is ourselves - the rest is out of our hands. So not worrying about what we can't control is a great thing!


1398 days ago

ARTJAC



1398 days ago

TOKIEMOON
I think we all need to take a few deep breaths way more often than we do. Good for you for recognizing that you do have tools to work through your rough patch.



1398 days ago

WORKNPROGRESS49



1398 days ago

KOHINOOR2
You have all the tools and understanding you need to deal with life's many challenges. Just remember to stay in the present moment...the past and future do not exist..except in our minds.


1398 days ago



Comment edited on: 10/23/2013 10:28:36 PM
GIRLINMOTION
Way to go. We are so proud of you. Your mother is a very wise woman.

HUGS


1398 days ago

THINFITFEMINIST


I do think you have enough understanding of the way life is and the tools to deal with it, that you don't need anything else. Except that is a listening ear or two or three, etc. here at Spark and lots of support.

Life is not meant to be without problems. These are our classes of higher learning.

Hugs

Karen


1398 days ago

1CRAZYDOG



1398 days ago

CFMOSS
Oh my....letting go is so hard; that control thing. You're doing good for the best you that you can be. Keep it up.


1398 days ago

SERENE-BEAN


Thank you for talking out your process. I hope things get easier for you soon!


1398 days ago

STUDLEEJOE



1398 days ago



Disclaimer: Weight loss results will vary from person to person. No individual result should be seen as a typical result of following the SparkPeople program.
More Blogs by ANGELCITYGAL