Wednesday, October 23, 2013
After a long absence that was preceded by sporadic activity, I find myself back here again. Using SP helped me to take off 40 lbs. back in 2007. I've tried a few alternate routes since then and have come full circle.
I like the new Spark START page. I like the look of it, and everything is organized well. I set up my motivation board, set some goals, read a bunch of articles. I'm still not going to jump onto any teams at this point. I don't want to end up spending a lot of time on the site when I should be up and moving.
The week's been good so far. I went outside walking yesterday and today. I used the tracker today. I'm not sure how long that will last because it's not something I like to do. What I did find was that by eating lots of veggies and preparing healthy meals today, I am at the very low end of my calorie range. I may track for a few weeks just to create awareness of calories. My main focus is on eating nutritious foods and I don't want to be tied to measuring things out and tracking it every day. That becomes tedious for me. I do need awareness, though, so I think I'll always keep a written log of what foods I'm eating.
This has to be a lifelong habit-changing process. No more crazy plans for me. Nothing to go off of. If my food is satisfying as well as nutritious, and my exercise is something I enjoy, there's never any reason to ever do anything differently.
This is one of the pics on my motivation board -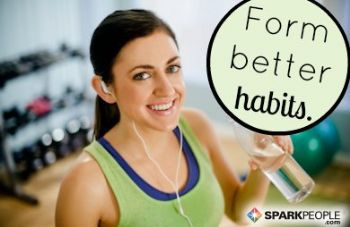 It says it all. It's time to permanently change old habits by replacing them with ones that will make me feel good and proud at the end of the day.