I don't have very many pictures of myself at all. If anyone does, it would be my Father but I haven't checked recently. I know he is always asking for current pictures.
However, this weekend I opened my red box. I have been carrying this red box around with me since I first left home. It has a lock on it, which at the time was very important because my Mother would read my diaries. Actually, she read them out loud, as I was held back, crying and screaming.
In my red box I have diaries, notes, pieces of writing and some pictures. I haven't looked at these in a long time. Nor have I read the diaries.
In one of my diaries I found a written plan to improve myself. I have always made plans to improve myself. There is nothing I like better than a list or a chart.
What was interesting about this plan was that it wasn't much different from my plans today. I wanted to eat right and exercise.
I remember I was 13 years old and spending the summer with my maternal grandparents when my grandmother and aunt first put me on a diet. They felt I was a little chunky.
I also remember trying on jeans and my mother weeping because I had a large behind and couldn't fit into the straight lined jeans of the time. This was pre-JLo.
I was ashamed of my curves, ashamed of myself, and thought I was fat and ugly.
Here is a picture from my prom which was only ever taken because it was the price I had to pay for the money my Father gave me for the prom dress: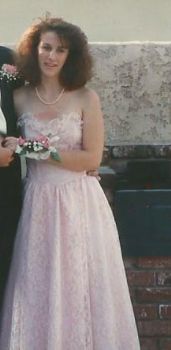 That's me when I was young and chunky.
Here's a few more: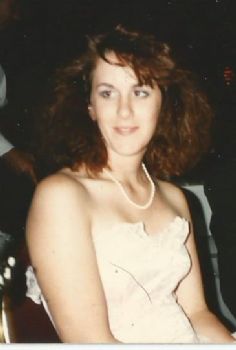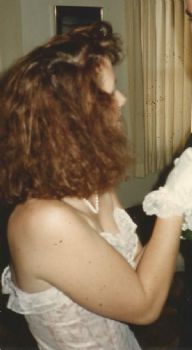 Then there was this picture, which was not a part of the official photo shoot, but which kind of says it all about how I felt about getting my picture taken.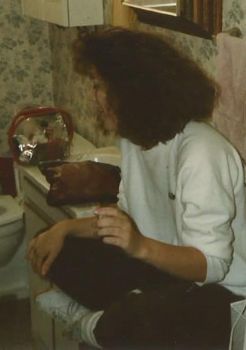 Then finally, a graduation picture.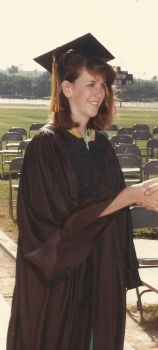 You can see how fat I was. I was just plain big boned, hefty, and chunky.
Our culture is really messed up. I did not actually get fat til I was 28. By that time, I had been convinced that I was fat for at least 13 years. It was not eating that made me fat in the end but a lifestyle of inactivity, smoking, and fast food. Okay, throw in a pound or two of depression.
To me, it is interesting that my thoughts at 18 would mimic my thoughts of today.
Let me clarify that. My thoughts at 18, when I was thin, almost concave from the looks of it, were less healthy than they are today, when I am over 200 pounds.
Not too long ago I heard a very good friend of mine tell her daughter that she and her daughter were the same size. It is true that her daughter is overweight. However, she is not bigger than my friend. It isn't that my friend doesn't love her daughter.
It's more as though we are all operating under some mass delusion. The idea that I was fat and ugly at 18 is nothing short of an aberration. Although I took at least 1 dance class a day and often 2 or 3, I was convinced that I did not work out enough. I was convinced that I was ugly. I was convinced that I should be ashamed of my body. Although I lived a mile from the beach, I never went to the beach. I would not allow myself to be seen in a bathing suit. I was too fat.
So, there is something I would like to tell my young self:
You are breathtakingly beautiful. You are absolutely stunning. Revel in the blessings of your youth.
...and I mean that.
I have gained another 10 pounds. I actually don't really mind so much right now.
I have been spending a lot of time looking out my window, watching the little birds who have taken up residence in the bush outside my office window play in it's depths. They venture out to have a snack at the bird feeder above the bush from time to time. My cats and I watch this all day long while I'm working. I haven't been turning on the tv or listening to Pandora. I have been enjoying the stillness of Fall, and the soft glow of October light.
If you wonder why I am okay with my 25lb weight gain after my 90lb loss, well, the answer is above. I was raised by a delusional woman, who was raised and kept company with other delusional women, who all spent their entire lives worrying about what they looked like.
Losing 90 lbs in 10 months turned out to be really fast for me. I don't believe my head knew what to do with that drastic of a change and you know, extremes frighten me. Although, I am certainly guilty of them.
Also, working 20 -30 hours of overtime a week, going to school, only getting 4 - 5 hours of sleep for well over a year, and trying to do everything else, got to me not too long ago. I have a job where every single person I speak to has a problem. That's about 80 people a day if I am working 12 hours a day like I was. Every single one of the people who call me is needing something or throwing their emotions at me. It's very stressful and draining.
So, I took a break and I also did a bit of self indulgent bingeing. Bingeing has always been a way of rebelling for me. It's always been a way of me saying, 'See! You can't control me!' I also suppose it is a way of willfully choosing to be out of control.
However, I have confidence in myself. I have confidence that I will work it all out and get back on track. I am hoping to be under 200 by New Years Eve, my birthday this year.
Which of course would require me finding that happy spot again where I am joyfully exercising, eating right, and keeping track of all of the above. I also have to manage my Type II Diabetes which, because of my weight gain and recent eating habits has reared its ugly head again.
October 20th is what I consider the beginning of this journey for me. So, it was also my Sparkiversary. I have accomplished a lot but I guess I just wasn't in the mood to remark on it in any way. I am very proud of how far I have been and although I still far to go, this is what I would like to say to my current self:
You are breathtakingly beautiful. You are absolutely stunning. Revel in the blessings of your youth.
This weekend I am going to the renaissance festival. I don't care for the food there so that is not a danger.
I am wearing a costume my Mother made for me over 20 years ago. She wasn't all bad. Just .... a lot of bad.
It's a Scheherazade costume and it was made for me when I weight about 130. My son was 2 I believe. It has probably a 100 different patches of different shades of purple and lots of different textures. I don't exactly fit into this outfit as it was meant to be worn but I have managed to get it on my body. So I am wearing it. Below is a picture where I have tried it on: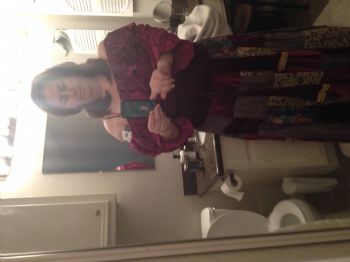 LOL my face is going not so great things but you can see the costume. I had to take out the waistband to get it on my body but I think it looks okay.