I love knitting who would have thought that with all the knitting I do

Ages ago I had joined a Knitting Forum that had a great idea for making a Friendship Blanket so I joined in the fun. We knitted squares that were 8X8inches and posted them off to a different partner each month we made one square for our partner and one for ourselves. Eventually you would have enough squares to make a blanket.
Well have a look here to to see why this not work out exactly as planned.
the-nutty-knitter.blogsp
ot.co.uk/2013/10/stash-kni
tted-patchwork-blanket.html
So my Stash Busting project for the November Stash Busting on the Knit it up team will be to make more squares to add to my patchwork blanket.
For those that cannot access the link this is what happened
I got some lovely knitted squares and loved them all the only problem was I got 6 inches square, 7inches square, 7 x8 inch, 8 inches square, 8x9 inches and some almost 10inches square.
I had started to sort out the various sizes and thought I would make several blankets and simply knit squares to add to those I had already.
Then I decided why not make a patchwork blanket using all the odd sized squares I had. Question was how was I going to make them all fit together?
Picking up stitches along the sides and doing a simple garter stitch to increase the size of the squares worked well.
I used various colours rather than trying to match the colour of the square I was adding on to. This made them all different and gives the blanket a real patchwork effect. I used a Baseball stitch to join the squares together and Mattress stitch for joining the long strips.
The first strip looked great but then I started on the second strip and offered it up to the first, I did not like the effect at all. So now I had a new problem how to make them look effective.
Then it struck me make a strip with smaller squares then add the strip with the larger squares. This is the result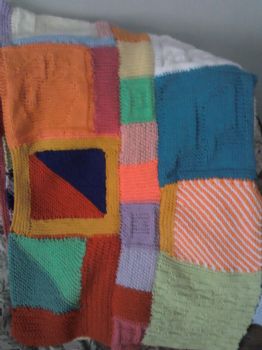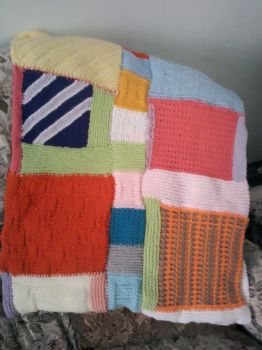 This is the blanket so far folded in half showing both sides.
The blanket will eventually fit a double bed and I will add a border I am not sure if I want a knitted or crochet border time will tell.