Wednesday, October 23, 2013
So, I produced a "Ghost checkers" for halloween and our haunted house... my idea is to creat a "Home, horrid, home" scenery wherer two ghost will sit at this table and play checkers.... the table is from IKEA, 49 crowns (7,5 USD) that I bought some time ago to have as a show stool for doggy - I got som white contact paper and made the checker board with. And the mans (?) are made from a little thicker paper, it took a while to make them although it is all very simple: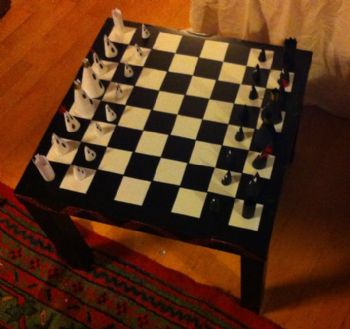 it makes me feel happy and I need that today – the deadline anxiety is harassing me hard and I need to focus on something else than my own worthlessness... to be honest this game of checkers reminds me too much because I should have spent the time better, nobody will really care if that board of checkers is in that scenery or not.