Tuesday, October 22, 2013
This morning's workout was TF HIIT 25 and yoga. Nice combination. Get my heart rate up and then bring it back down with some zen. :) However, I will say today my coordination and flexibility is not all there. I have this annoying sinus congestion which affected my yoga, but still got through the moves.
Yesterday I placed my order in again for Bountiful Baskets and I can't wait to see what I get this time! Also ordered 2 basketball size pumpkins and an order of bread (5 loaves to be exact). Saturday can't come soon enough! With the pumpkins, we'll do our carving and use then bake the seeds. Can't wait. So far, this is what we have for our Halloween decoration.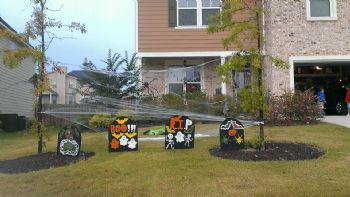 We also have a frankenstein which is the green deflated thing in the back. :P
Today's menu:
#1 Chocolate Shakeology
#2 Chef Salad
#3 Turkey rollup w/ cranberry dressing
#4 Pork chops w/ baked asparagus and mashed potatoes
#5 Greenberry Shakeology w/ pomegranate