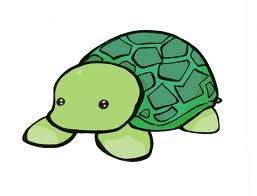 You, the readers of my blogs, are going to see a turtle theme in each of the 3 phases of my program. Turtles! LOL The first phase of course will deal with baby steps, perhaps faltering and doubting this route. The 2nd phase hopefully (doubt!) will be where it is going to be showing in my body, health, muscles and weight management. The 3rd phase will be feeling like a Ninja Turtle perhaps. We will see.
First off I changed my SparkName TWICE! LOL From FITRAWFRUGEELVR to FITRAWTURTLELVR to what you currently see: FITRAWTURTLE. FIT is my dream. RAW is my diet. TURTLE depicts my speed getting to my goal.
Yesterday I realized I had left my bananas at home. This meant I didn't bring enough to eat. I went to the co-op where I shop weekly to pick up some things forgotten on Saturday. Their bananas unfortunately were not ripe enough. I walked past the deli and thought to myself that I should get a sandwich. NOT!!! Definitely not on program!
While working afterwards I was concerned about not getting enough calories for the day. That is a no-no for my program. I thought again of going back to the co-op on the way to my next client who lives close to it. I thought "why not, I went off program Friday and Saturday. What is one more cheat day?"
I slowly, like a turtle, came to my senses. Instead I drove home - not too far away - and picked up my bananas. End of problem.
Yes, I get those horrible self-defeating thoughts. "Why bother", "What's the use", "No one will know". "I am loved no matter what", "I can forgive myself for my falter"......and the list goes on.
We all go there sometimes. We may even dip into that pit once in awhile. Unfortunately for me when I dip into that pit I can't just jump out and go back on program. I am very sensitive to the MSG in processed meats, cheeses, condiments and all other processed "food" items. When I dip my toe into the water I go deep sea diving! It's best for me not even to have one bite! I know my limits. I don't test the waters anymore. Sighhhh
So, day 1 of being the turtle ended up fine. Just fine.
Day 2 is here and I plan to stay the course. One slow step at a time. Ughhhh!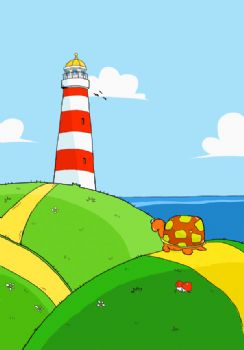 This cartoon depicts my journey with the goal being the lighthouse. This is a very personal image to me. The meaning of the lighthouse means spiritual awareness in this world. I have a lot of hills and valleys between where I'm at and the lighthouse.
Get comfortable, make some organic air-popped popcorn seasoned with Himalayan sea salt and watch me make it one very slow and methodical step at a time.
I know for certain that this journey is only doable with support. YOU matter to me. YOUR reading and commenting on my journey helps me. Yes, YOU make a difference to ME.
Thank you!