Okay, I'll try posting this again and see if the video comes through this time... Sparkgremlins at work?
Yes, you read that correctly, Iím contemplating breaking my exercise streak. Not today. Today was Day 926 and I took an hour-long walk in the park. Today was a great day to streak. No, Iím contemplating breaking my streak at Day 1,000.
If youíre late to the party, here are my streaking rules: At least ten minutes of intentional exercise (not just walking around the grocery store, or housework) every single day. My ten-minute minimum is more like 15, with most days being 20-60 minutes. Those are the basic rules. Some days are hardcore; some are pretty laid back. But Iíve kept this streak going for 926 days in a row. No lie. I really and truly have done this. I have walked, hiked, hula hooped, roller skated, lifted weights, been an elliptical warrior, swam, Zumba, and who knows what else, for 926 days in a row.
Part of me thinks it might be time to end the streak. But Iím on the fence about it. On one hand, I feel like itís almost played out; itís lost some of itsí motivating force. On the other hand, I wonder if itís doing me even more good than I realize. If you get a chance, watch the video, so you can see whatís bouncing around in my head. Maybe youíll have some input. I have 74 days to make up my mind (barring any unforeseen, streak-breaking incidents outside of my control). To streak, or not to streak--that is the question. :)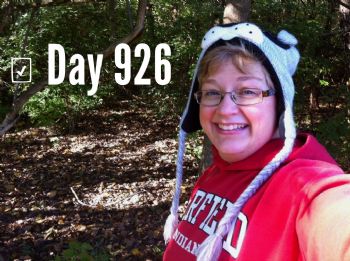 But today--WE STREAK!
Spark ON, Brave Sparkers!!
PS: Please excuse the annoying dropped frames in the video. I was trying out a new video app on my phone and it ended up being a little unreliable...