Monday, October 21, 2013
Jesus
Jesus died over 2000 years ago.
Nobody has ever referred to HIM as the late Jesus,
Not even the heathens.
Nowhere in history.
Nowhere has HE ever been referred to in the past tense.
HE 'is' the Living God!
97% OF YOU WON'T FORWARD THIS MESSAGE.
When Jesus died on the stake, HE was thinking of you! If you are one of the 3% who will stand up for HIM, forward this.
"May God Smile on You Today."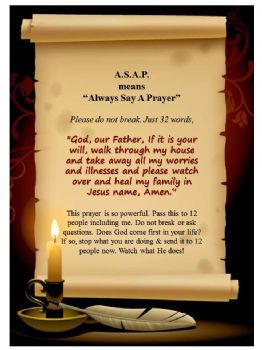 (sure hope this does not get me kicked out of Spark People.. but if it does... I guess it isn't anyplace I would want to be anyway.)