The 21-day Lie
Monday, October 21, 2013
Finding your focus after being on this journey for 17 months can be difficult. There is a saying that anything you do for 21 days becomes habit. I would like to be the first one to dispute that finding. While some things are truly second nature, I have to remind myself every other second to do what I KNOW I should be doing because everything in my being is telling me to rebel against it. 21 days cannot undo 28 years of unhealthy. 17 months can't either. What it CAN do is make me much more prepared to handle those moments when I my instinct is telling me to binge or skip a workout. Thankfully, after nearly a year and a half of healthy living, the NEW me, the food scale devotee, the let's do another mile, the that is too sweet and/or too salty me, the I love the taste of zucchini me, is winning out over the old me 85% of the time. I have to remind myself of this because often, I am discouraged by me frequent back-sliding. I tell myself, "You know better!" I have a friend that always says that if you KNOW better than you would DO better. If only it were that simple.
In my intermittent absence from Spark, I had to do some soul searching. I found myself gaining and losing the same few pounds. More importantly, I found myself disenchanted. Updating my Spark Page with a new uplifting background or writing an insightful blog was no longer doing it for me. Pixie dust and encouraging words only goes so far for so long. At some point, you have to ask yourself: Is this worth it anymore? In order to answer that, I had to step away from Spark because I needed to give myself an honest answer, not one motivated by someone else's weight loss. So often I think many of our blogs are written in a way to convince OURSELVES to believe that we are okay with a little weight gain here or there, or that the journey is easy peasy, or that we are doing this for "health" reasons. A lot of that is true but what most of us really want to say is "Gaining five pounds after working my a$$ off sucks and I am pi$$ed and I want to eat the first cupcake or skinny person I see!" But you don't get voted Spark Motivator for psycho blogs like that so we paint this process to be pretty. I can't handle too much pretty.
In my time away I realized that not only do I WANT this, but I NEED this. I NEED to be healthy and it is no longer good enough for me to dial it in because the supporters around me are telling me how great I look at my current size. I am not as healthy as I could be. I have work that needs to be done. I WANT and DESERVE to be a mother. Considering my medical history, I MUST get my body as healthy and strong as I possibly can before I can consider motherhood. This journey is so much more than fitting a pair of jeans and honestly, when I began this journey, the new jeans and the new wardrobe were my motivation, and that is okay. At some point, that won't be enough anymore. Although Spark's new Start Page is wacky and confusing, writing out my goals today helped me refocus. It also encouraged me because 515 days into this journey, the struggle is still real but that does not have to stop me, and it WILL NOT stop me.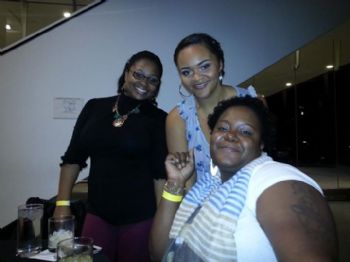 Me, in the center, with friends