Ca fait 1,6 kilos au total depuis 2 semaines. Pas beaucoup. Deçue! Snif!Snif!

THAT'S 3 1/2 LBS ALTOGETHER IN 2 WEEKS. Disappointed.

6h Petit déjeuner : 1 hp pain nature avec morceaux de pomme et potiron et filet de crème 15%, 1 yaourt Taillefine 0% aux fraises, 1 thé (3 sucrettes), 1 comprimé multivitamines effervescent.
PROTEIN APPLE MUFFIN WITH PUMPKIN AND DRIZZLE LOW-FAT CREAM AND LOW FAT STRAWBERRY YOGHURT, A TEA AND FIZZY VITAMIN :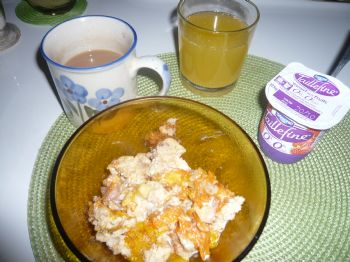 Voici quelque d'autres photos de ma terrasse, avant que je range les meubles bientôt, (bien qu'il fait toujours beau ici dans le midi)! J'ai des géraniums, jasmin et oranger du Mexique (très parfumé), bambou, et les herbes pour ma cuisine!
Ca que j'aime dans mon appartement, c'est que toutes les baies vitres avec portes coulissantes ouvrent sur la terrasse orientée sud.
A FEW MORE PHOTOS OF MY BALCONY. STILL GORGEOUS WEATHER DOWN HERE IN THE SOUTH OF FRANCE. FLUFFY LOVES LOOKING AT THE LITTLE BIRDS IN THE TREES AND CHASING THE BUTTERFLIES. KEEPS HIM OCCUPIED FOR HOURS! I HAVE MOSTLY GERANIUMS, BAMBOO, JASMIN, MEXICAN ORANGE PLANT, AND OF COURSE KITCHEN HERBS!
WHAT I LOVE ABOUT MY APARTMENT IS THAT ALL THE SLIDING WINDOWS OF ALL THE ROOMS OPEN OUT ONTO THE SOUTH FACING TERRACE.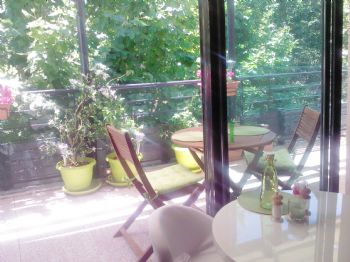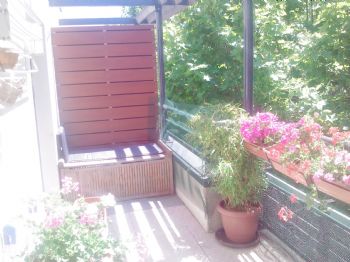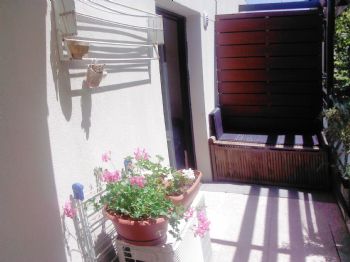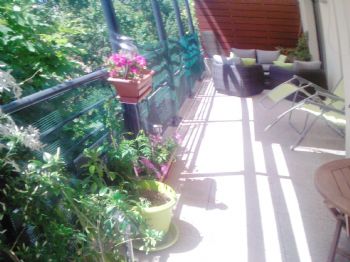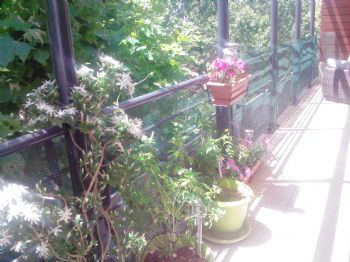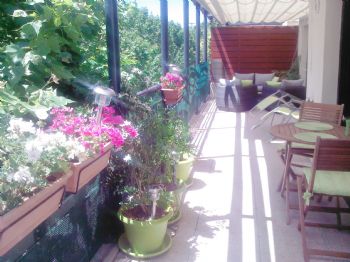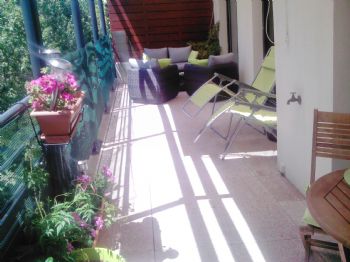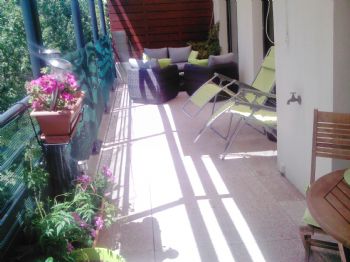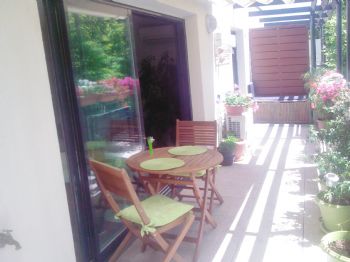 Et Fluffy ce matin ii est où? Ah, en train de se bronzer! Allez, je dois faire le lit, tu ne vas pas rester là toute la matinée quand même! Ben dis donc, il n'a pas de peps ce matin!
AND FLUFFY WHERE ART THOU THIS MORNING? IS THAT A GROGGY LOOK OR ARE YOU SUNBATHING? COME ON MY LOVE, GET A MOVE ON, I GOTTA MAKE THE BED! NO LOLLING ABOUT TODAY, GOT HOUSEWORK TO DO!
WAKE UP WAKE UP YOU SLEEPY HEAD!
GET UP GET UP GET OUT OF BED!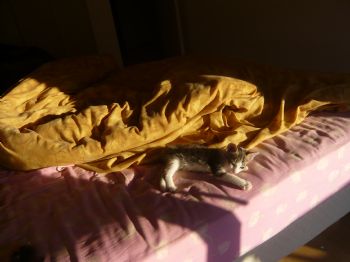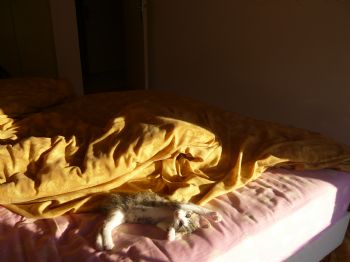 2 objectifs aujourd'hui : boire 1l d'eau, et faire du ménage.

2 GOALS TODAY : DRINK 1L OF WATER AND DO SOME HOUSEWORK.
Am a bit frazzled today. It's all go, go, go! Not even time to prepare a proper lunch, let alone any housework goal I unrealistically had in mind! Sorry folks, gotta bit of a rush job going on here.

Mid-day lunch : a bowl of hot steamed sweet pumpkin sprinkled with cinnamon and diet sugar, with half a custard apple, and a protein chocolate cake, with a cup of tea.
DEJEUNER : POTIMARRON CHAUD AVEC CANNELLE ET 1CàS CREME LIQUIDE 15%, LA MOITIE D'UN ANONCE ET 1 BOOSTER HP GATEAU CHOCOLAT? 1 THE.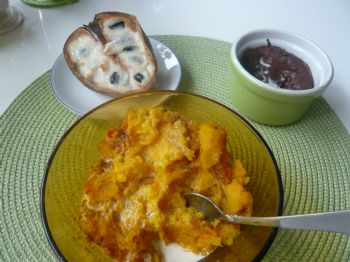 God, don't know where the blooming day's gone!?! Tea-time already!
4pm tea-time : a protein chocolate bar, low-fat coconut yoghurt and 2 cups of tea (3 diet sugars in each cup). Sorry, as you can see, no attempt at presentation here. Even dived into the chocolate bar before taking the snap. I'm telling you, it's all go, go, go today!
GOUTER 16H : 1 BOOSTER HP BARRE CHOCOLAT, 1 YAOURT TAILLEFINE NOIX COCO, 2 THES.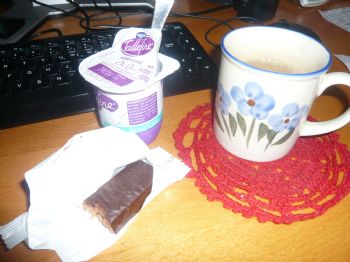 19h dinner: 1 slice roast pork with sautéed Chinese vegetable, 1 turkey escalope and a ramekin hot sweet pumpkin with dribble of low-fat cream.
DINER : 1 TRANCHE ROTI PORC AVEC DES LEGUMES SAUTES, 1 ESCALOPE DE DINDE, SUIVI D'UN BOL DE POTIMARRON CHAUD AVEC UN PEU DE CREME ALLEGEE.