I do not recall writing anywhere that I am a mince pie magnet, but yesterday I became one.
I now have 63 boxes of 12 mince pies in my living room, a grand total of 760 mince pies and a WHOPPING, 174,800 calories.
They are all mine to do what I please with, what a gift ?????????????? Somebody is having a laugh! That is a year's supply, at 2 a day! There are raisins in them, but I don't think, even I, could legitimately count them as part of my 5 fruit and vegetables a day.
I had focused my attention on making up my £200.00 shortfall before the end of the month, and things were looking good. I played about with my budget, reduced spending on food for the rest of the month, and cut everything else to zero. All my regular bills have been paid.
Then, a bit of Frenchie's good fortune flew, my way, across the channel, and I got a letter advising me of a decent credit on my telephone bill, due to changing contracts.
I then opened my inbox and a merchandising/mystery shopping company, that I do some freelance work for, when I am short on dough, was asking me to do an urgent buy back for them, for an amount that would get me back on track financially. YIPPEE.
So yesterday, after I had been to my Powerhoop class, which was really good fun, I trawled the supermarkets of Fife, looking for mince pies with faulty packaging. Usually with these jobs you just find a few of the products to buy back, but not on this occasion, I had a real windfall. I found 63 boxes, and the company says I can keep them, along with a return of my outlay and my fee for doing the job.
So ....... what does a girl do with 63 boxes of mince pies, in damaged boxes, but apart from that perfectly edible? That is Monday's dilemma.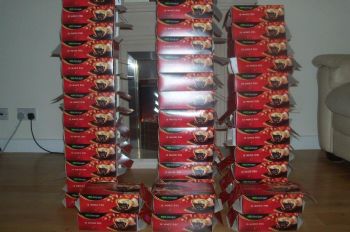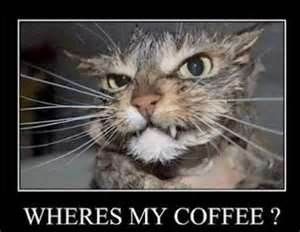 - I AM 146 pounds
- I AM drinking two litres of water a day, with honey and cinamon.
- I AM eating an average of 1550 calories a day
- I AM consuming an average of 5 fruit and vegetables a day
- I AM planning out my month/week/day and work my plan flexibly
- I AM making time each day for joyful spiritual pursuits
- I AM making time each day for my family and friends
- I AM doing some form of exercise each day
- I AM happy, healthy and grateful for the gift of life giving thanks each day
- I AM taking care of my body as ultimately it takes care of me.
- I AM a Flylady
- I AM consciously living voluntary simplicity
- I AM financially abundant, and willing to share my good fortune