Okay - here I am again...
The next morning, after a typical English breakfast of egg, bacon, sausage, blood pudding (it sounded terrible but it actually tasted pretty good!), beans, and waffles, we drove to Stratford-Upon-Avon, where we toured Anne Hathaway's cottage and William Shakespeare's birthplace. If you ever make it there, you should really see them.
Anne Hathaway's house: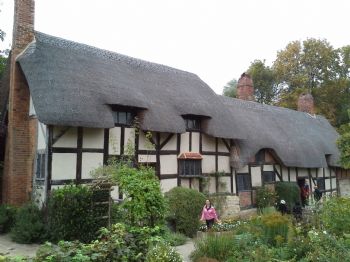 William Shakespeare's birthplace: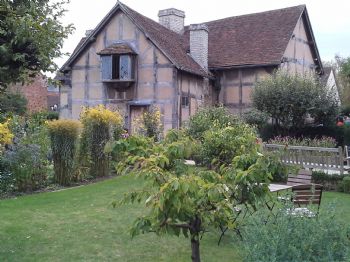 William Shakespeare's ghost:
this guy was pretty funny - he stood really, really still and then when one young girl came up to him, he jumped down and chased her in the crowd. You should have seen her face! LOL
After leaving Stratford-Upon-Avon, we headed for Colwyn Bay in Wales. It took about 4 hours to get there, but we made it! Very nice B&B to stay in for the night. It was too late to do anything on this evening, so we just rested up and left early the next morning. Our first stop was at Conwy Castle. It is a ruin, but very impressive none the less. The city of Conwy was once completely walled in by the castle walls.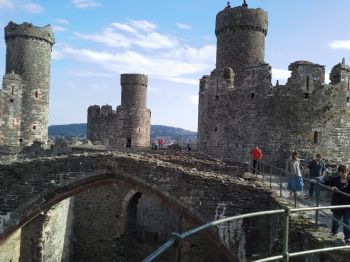 View from Conwy Castle: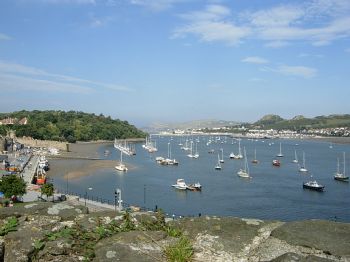 After exploring Conwy Castle, we drove to Liverpool - about an hour away. We wanted to get there early enough to be able to take in a Beatles Tour. It was fantastic! We couldn't get on the bus tour, but we were able to get a taxi that took us around. I think we got lucky - the tour guide was really good. Here's the car we rode around in. It's called Eleanor Rigby: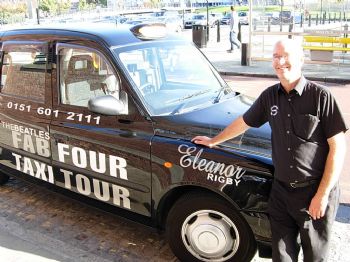 He took us to see each of the Beatles homes, plus gave us some background information on each of them. He showed us where Paul and John met and where they decided to join each other in a band. He showed us Strawberry Fields and Penny Lane as well. Strawberry Fields was an orphanage where John used to go to play with the kids. He had some really good memories from there, so he wrote a song about it. Here are the gates to Strawberry Fields: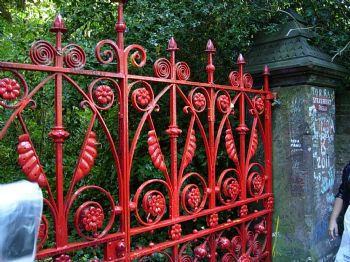 The tour guide took this one of Joanne and I: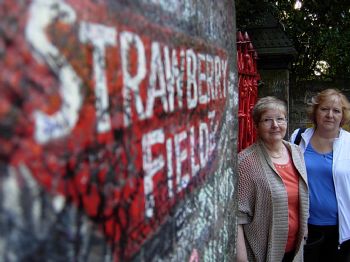 Here was the incentive for Penny Lane: (Who would have thought that the incentive would be a barber shop!!)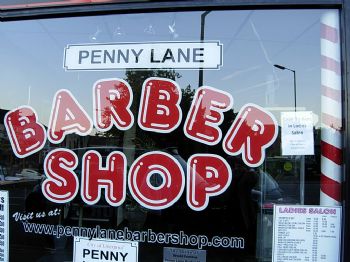 These three subs were in the water at the Albert Docks. You could rent them to stay in - they were apartment subs. The back part of the Titanic one had a jagged edge as if it had been broken apart. LOL
We stayed overnight at the Premier Inn at the Albert Docks, then the next day we explored the Anglican Church in Liverpool - it's one of the 4 largest churches in England. It was quite nice inside.
After exploring this church, we drove to Lancaster to meet our cousin's husband Peter. He took us around Lancaster and showed us where our grandfather was born and grew up, as well as where our great grandparents were married. Then we took a tour of Lancaster Castle. It's still in use today, so we weren't able to see the whole place. We saw where the Pendle Witches were kept, where the guilty people were hanged, the jail cells, as well as the court rooms where the people were tried.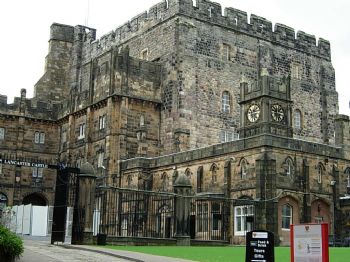 This is the area where the prisoners are kept now: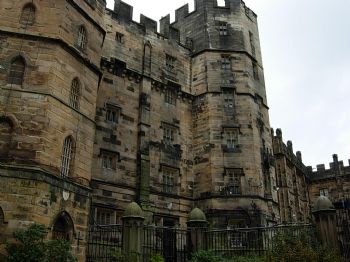 After leaving Lancaster, Peter took us to his home in Leeds, where our cousin Susan was waiting for us. We really enjoyed our visit with them. At first Sue was very quiet and shy about talking with us, but by the time we left, she was really coming out with some zingers! It was really nice to see her come out of her shell.
In the next blog, I'll tell you more about our stay with Peter and Sue, but for now I must say one thing - it was really nice to see the love that they had for each other - even after 36 years, they acted as if they were newlyweds. It was such a nice thing to see. I hope that my husband will still look at me that way after that many years of marriage.