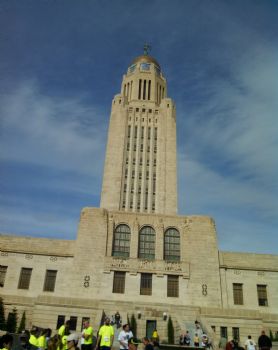 Locals will recognize where this race classically begins. We even had a celebrity starter... who else... but he's facing the other way. I did pet the "first dog" and chat up the Gov for a few minutes before the start.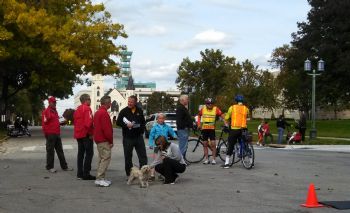 And this shot is especially for MIRAGE727, because he always does a finish line shot before the start of a race... the time you see on the clock is time until the start, counting down.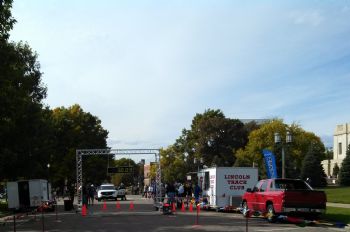 That's all you get for photos because at this point, I line up and settle in to business: the business of surviving my first "long" outing since the Double Half Mary. In fact, the longest run I'd done between then and now was a 3.5 on the treadmill. I had my focus on the pool, and I was a bit concerned about what I would have left to give to this run.
I encountered a few others who had done the double half with me... and we swapped notes. We pretty much all had the experience of it taking more out of us than we thought the first day after... and the others also were out for their first "long" since. One gal told me she had done a couple of 6 milers.
To the race itself... started out a little too fast. I clicked the start on Runkeeper when people started moving... only they were just bunching up, the gun hadn't gone off yet. Still, having started it, I left it be.
I did NOT finish as fast as last year. I lost position in both my age group and overall. I attribute this to the fact that the weather this year was far better for true runners to have fast times. Last year my sturdiness in the heat worked to my benefit. I was in fact, the LAST Female 60 - 69 to cross the finish line. Had I run the same pace I did a year ago, I would have caught up to the next finisher in my age group... but remember, I've graduated groups, and Lincoln Nebraska has a few pretty quick little old ladies! The winner of the age group finished in 1:23... 13 minutes faster than me!
On the other hand, I finished ahead of 33 other people... all but 3 of whom were YOUNGER than I.
In the end, my goal was to finish, uninjured, and be able to keep up the training so I can do that half next month. And THAT, I achieved. And you know you have turned a corner in your thinking when you get toward the end of the 15K and think... "already?"... because it's shorter than the last outing.
OK, 'nuff for THAT event... it's done. Now back to the pool.

m


Spark on.