Had a successful second triathlon this morning. Woke up at 5:10, nice and early and had my usual oatmeal and banana for breakfast. Plenty of time to don my race gear, unhook the RV and get to the site. This race was held at Moss Park in Orlando, and we stayed overnight at the Campground in our little RV.
I had gotten my race packet the day before, so I didn't need to arrive too early. I was very relaxed and ready to do this, I had just done my first tri there last month, so this would be a familiar venue for me, and it relaxed me. I knew where to go, where the swim, bike and run starts were.
Got my Walmart special bike racked up and set out my gear on at the transition place. They had written my number on my arms, the event on my left calf and my age on my right calf, and I had a tracker strapped around my right ankle.
I walked over to the swim location. This swim was to be 750 KM, the first was only 400 KM, a little longer, but nothing to be concerned about. My swim trianing has been in much longer distances and I knew this would a relatively easy distance. I wouldnt be fast, I wanted to save energy and not burn out in the very beginning. My strategy was to take it easy all the way, so as not to be huffing and puffing and walking through the running part.
The swim went very well, I felt strong and confident in the water. I don't have great form or speed, so I did the best I could. I've had no lessons from a swim trainer, I just swim the way I feel and from what I've read about form and technique on the internet. I didn't use my watch to time myself. The last time it was just a nuisance trying to remember to hit the buttons in the correct order at the right time.
Exiting the water, there is a quarter mile run to the transition area, where the bikes are racked. I'm sure they count that as part of the 5K run, because the run portion is stated to be 2.8 miles and the distance would be about a 5k when you add the two portions together. Anyway, I threw on my helmet and shoes, (I wore my running shoes to save time later) unracked the bike, took a swig of gatorade and ran to the spot where you mount your bike, hopped on and rode off.
I felt okay on the bike, I was passed by many very fast riders, but I passed a few myself this time. My quads were burning and I was breathing pretty heavy through most of the 12 mile distance. I tried to maintain a reasonable pace, but not so fast that I felt I would be burned out by the time I got to the running portion. I think I paced it okay. The bike part felt better this time, perhaps I'm getting used to it with all the riding I've been doing. That's not to say it wasn't difficult, because it was. I need lots more time in the saddle, the bike is my weakest discipline.
Eventually I finished and returned to the transition area. This would be my fastest transition. I racked the bike, took off the helmet and put on my race belt and took off running. A very quick transition. My legs felt heavy, but not too bad. My brick workouts were helping. On this segment too, I felt better than I had on my first tri. I quickly got my running legs and got going, passing quite a few who were walking or shuffling along. I think the running was my strongest portion of this race.
The weather was warm, but overcast from time to time. so the sun wasn't beating down on us. I knew the course and paced myself accordingly. Quickly, I got to the corridor to the finish line. DW was there and took a few pictures of me. The usual stuff, matted down hair, post race water drinking and heavy breathing, looking beat up.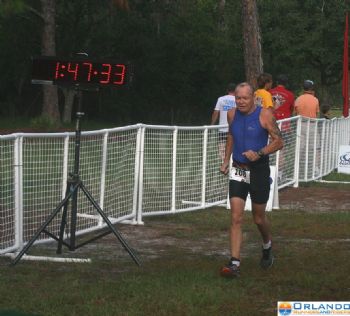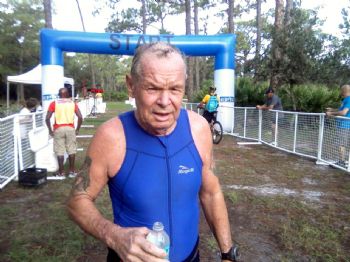 They had plenty of food available! Huge assortment of fruit, bagels, peanut butter, and a lot of it. This is where we got to meet the other athletes, at the food table. A couple of people commented that I "looked strong out there" and I thanked them graciously. One younger guy told his friend how I flew by him on the run. A nice group of people, everyone was enjoying themselves and there was great support for each other amongst the athletes and their families. They seemed to enjoy seeing an older guy participating. And once again, I was the only competitor in my AG, so naturally, that made me the winner of that age group. They gave out ribbons for the event - gold, silver and bronze ribbons in leiu of an actual award. Being a small venue, I suppose it keeps the organizers costs down a little. I like my gold ribbon!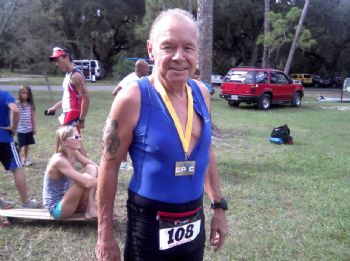 As for stats, I came about 30 seconds short of my first triathlon time. And this race had a much longer swim distance. I figure I made about an 8 minute improvement overall, all things being equal.
here are my times:
swim: 17:08
run to transition 1: 2:07
T1: 1:12
bike: 44:28
T2: 00:35
run: 26:55
Total time: 1:32:26
Thanks for reading, and have a great day!