Sunday, October 20, 2013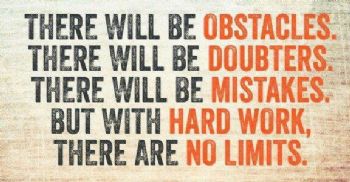 Some days this journey we're on is hard. We may feel weighted by every choice and step we take, as if we're doing so much for ourselves yet not seeing any result. Other days, we feel buoyant and carefree, definitely able to experience all the changes we're working so hard for, no matter how small.
We're going to encounter obstacles and we must simply navigate around them even if we have to do so more than once.
We're going to encounter doubters and we must simply choose to rise above their negativity and less than encouraging attitude.
We're going to make mistakes and we must prepare ourselves for this because we are not perfect, and mistakes are how we learn.
We're going to embrace the hard work because it is a process that ultimately gets us to our goal of becoming the healthiest we can be.
This journey has no limits and it doesn't end until we do.
We got this. We know what we need to do. We simply need to put one foot in front of the other and go!