I had big plans for Saturday. I had cleaning and rearranging and cooking to do. I needed to get the tire on my wheelbarrow repaired so I could finish up some "heavy" projects in the garden and yard. I had to go to the Post Office and get the mail as it hadn't been picked up in 3 days. My to-do list was full.
I got up early and went for my coffee walk. It was chilly and damp. I puttered around and threw in some laundry and made breakfast for my mom. Got organized to go get an inner tube at one store to take to the tire repair shop, pick up the mail, stop by the Salvation Army and drop off several bags of stuff, pick up a few things at WallyWorld and get back home and get busy.
Got the mail, got the inner tube, took it to WallyWorld with the tire and dropped it off to shop while it was being repaired. I wanted to buy the new Anne Rice book. I bought a piece of Pilates equipment instead. Book was $18, fitness equipment on clearance for $15. Ended up having another markdown so was only $12. Reward for doing the right thing?? Bought only the food items that were on my list, even though I wanted to try the new pumpkin bagels I resisted. The Brussel sprouts were back in stock...can you imagine them being out-of-stock?? But they were on Thursday and Friday?? Paid for my groceries and went back to pick up my tire. The guy wouldn't let me pay for the repair. Said all he had to do was use the inner tube that I had to purchase at some other place and fill it with air. Bonus!!
The sun was peaking out...still overcast but not chilly anymore. I headed for the alley at the Salvation Army to drop off the donations. Decided I'd like to check out what was new and exciting in the store so parked at the library and walked around. I found 4 books I had been looking for and a new hoodie and a new fall weight jacket. I only struggled with it for a minute. I gave up 8 bags of stuff and left with only one!
I came home and dropped off the mail at mom's, ran downstairs to check on the laundry and throw the hoodie and the jacket in with some jeans. Put the tire back on the wheelbarrow and put away the groceries. Suddenly I decided I wanted to go out to Beaver Creek and take a walk instead of staying inside cooking.
So I changed my shoes and grabbed a warmer sweater and drove out to the park. They've let the cows in to graze for the winter so I had to dodge cow pies in some places but I walked along the creek and admired the autumn colors and watched a beaver building a dam. I just walked and walked...a little over 4 miles. It was such a perfect day to be out there. No campers in site. I saw all kinds of wonderful things and still got home in time to rustle up some grub for dinner and have a nap.
I'm posting a photo that I didn't take, but it's a spot I walk to, just above my favorite secluded campsite. I come to this campsite sometimes and build a fire and just sit next to the creek and listen to the water. This is a shot looking up. It was taken by Chuck Jones and posted on a FB site for lovers of Beaver Creek.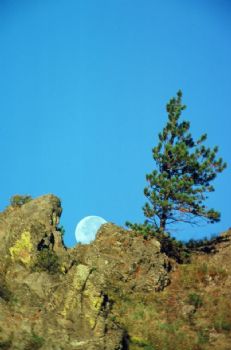 It just gives you a good idea of why I played hooky from my Saturday chores. MADEIT3 and I have been cussing and discussing the merits of running back to the past.About 1962 before all the maddening technology. Since I have access to a DeLorean but not a flux capacitor...I ran away to Beaver Creek. And still got most of my chores done.