8h Petit déjeuner : Moitié pain nature avec morceaux de pomme/moitié Booster pain chocolat décoré d'amandes effeuillées, 1 yaourt Taillefine 0% aux fraises, 1 thé (3 sucrettes), 1 comprimé multivitamines effervescent.
PROTEIN CHOCOLAT CAKE AND PROTEIN APPLE MUFFIN AND LOW FAT YOGHURT, A TEA AND FIZZY VITAMIN :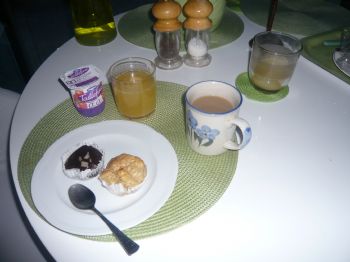 2 objectifs aujourd'hui : boire 1l d'eau, et faire du ménage.

2 GOALS TODAY : DRINK 1L OF WATER AND DO SOME HOUSEWORK.
Fluffy le spidercat grimpe les murs à la poursuite de son souris. N'importe quoi, il n'est pas normal, je vous dis!
FLUFFY THE SPIDERCAT CLIMBING THE WALLS CHASING HIS MOUSE. HE'S DEFINITELY NOT NORMAL!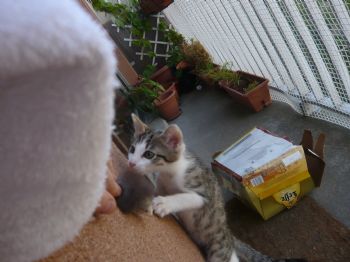 Juste quelques photos de ma belle terrasse que je voudrais partage avec vous. C'est 30m2, assez grande pour faire du jogging dessus, lol! Nous sommes au dernier étage sous le soleil (plein sud) et sous les étoiles!
Nous sommes là depuis avril et nous avons fêté notre pendaison de crémaillère sur la terrasse et nombreuses apéros avec voisins et amies depuis qu'on est là! Maintenant l'été terminé, il est temps de serrer la ceinture! Snif! Snif!
Sinon, dans les photos, la grillage verte c'est pour protéger Fluffy.
PHOTOS OF MY BELOVED TERRASSE. YES, IT IS POSSIBLE TO FALL IN LOVE WITH INANIMATE THINGS. UMPTEEN APERITIFS THERE WITH FRIENDS AND NEIGHBOURS AL FRESCO THIS SUMMER. NOW SUMMER'S OVER (ALBEIT BELATED DOWN HERE IN THE SOUTH OF FRANCE) IT'S TIME TO TIGHTEN THE BELT. NO MORE APEROS FOR NOW. SNIF!SNIF!
WE ARE ON THE 5TH AND LAST FLOOR UNDER THE STARS AND SOUTH FACING. I DO COUNT MY BLESSINGS DAILY, I'LL HAVE YOU KNOW! VOILA! MY LITTLE TREE HOUSE!
WE MOVED HERE JUST BEFORE SUMMER. THE GREEN MESH FENCING IS FOR FLUFFY'S BENEFIT!!!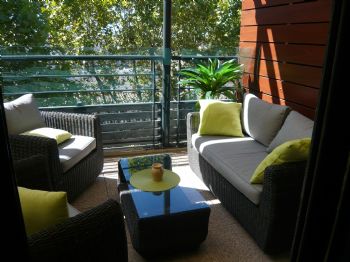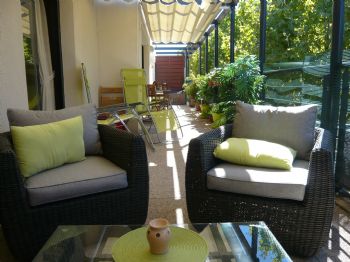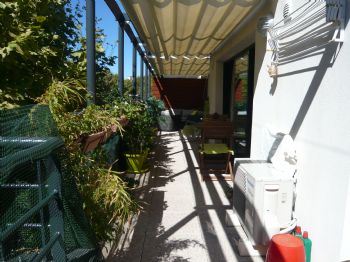 12h déjeuner : poireaux au gratin (poireaux, 1càs crème liquide 15% et une petite pincée de fromage râpé allégée), 1 hp omelette au fromage, suivi d'un yaourt Taillefine 0% aux framboises, terminé avec 2 tasses de thé (3 sucrettes par tasse). Repas très bon, mais m'a laissé sur ma faim, donc j'ai ajouté la moitié d'un kaki. Mais j'avais encore envie de quelque choses après (ben dis donc qu'est ce qui se passe aujourd'hui?!?) et donc j'ai ajouté 1 ramequin de potiron chaud à la cannelle et 1 càs crème liquide 15%. Allez, je crois que je peux durer jusqu'à 16h maintenant quand même!
LOW-FAT LEEK GRATIN WITH A PROTEIN CHEESE OMELETTE, FOLLOWED BY A RASPBERRY YOGHURT AND 1/2 SHARON FRUIT. STILL HANKERING AFTER SOMETHING AFTERWARDS SO HELPED MYSELF TO MY FAVORITE DESSERT : HOT SPICY CINAMMON PUMPKIN DRIZZLED WITH LOW-FAT CREAM, AND 2 TEAS. DIABOLICALLY DELISH !! :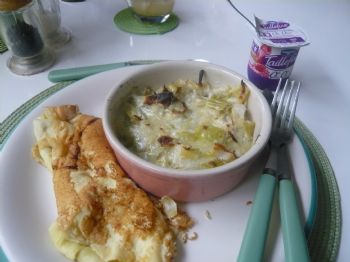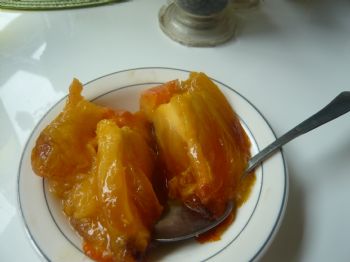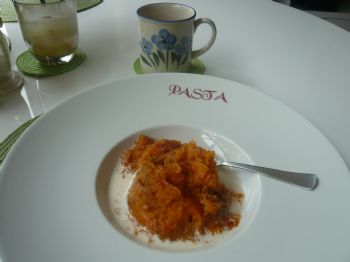 Je prépare le potimarron en le mettant dans l'autocuiseur pour cuire à la vapeur. Après je le range dans le frigo pour avoir un dessert prêt à manger! Ooh lala, ma peau commence à devenir orange avec tous ces potirons, je ne plaisante pas !
STEAMING SOME SWEET PUMPKIN SO HAVE READY-MADE DESSERTS IN THE FRIDGE!
CRIKEY! MY SKIN'S STARTING TO TURN ORANGE WITH ALL THESE BLOOMING PUMPKINS, AND I'M NOT KIDDING!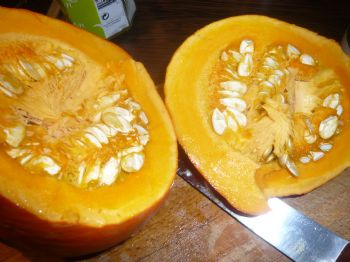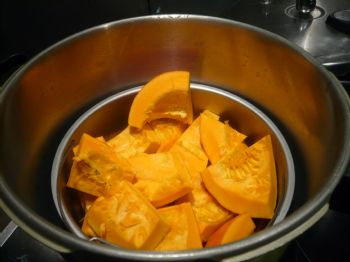 Passé l'après-midi à faire mon Wellbox. Voici ce que j'ai fait :
SPENT THE AFTERNOON DOING MY WELLBOX: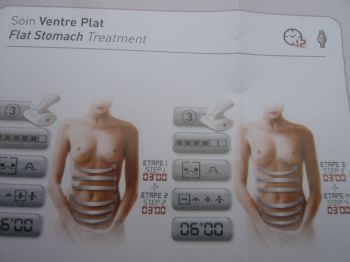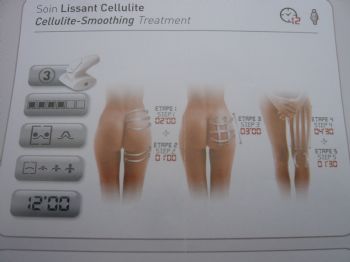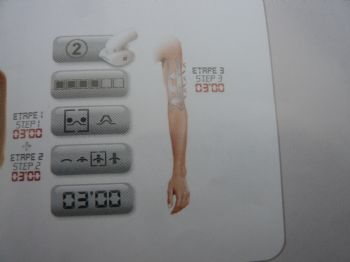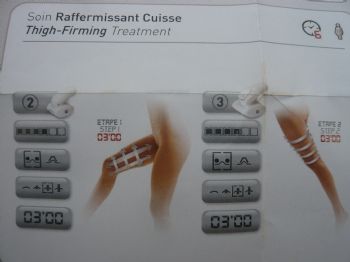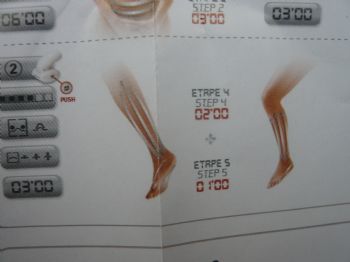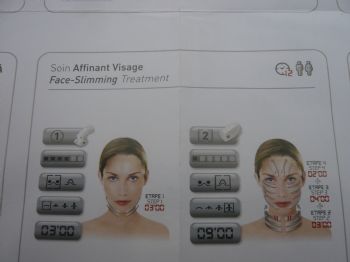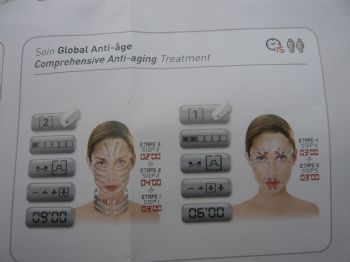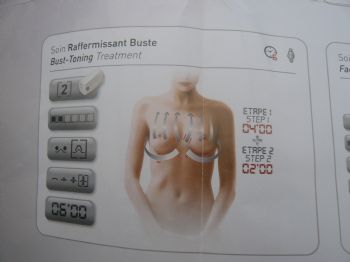 16h30 goûter : moitié d'un kaki, 4 carrés de chocolat (protéiné), potimarron chaud à la cannelle et 1 càs crème liquide 15%, et 1 thé (3 sucrettes).
TEA-TIME: HALF A SHARON FRUIT, 4 CHOCOLATE SQUARES, SWEET PUMPKIN WITH CINAMMON AND DRIZZLED WITH LOW-FAT CREAM, AND 1 TEA. THAT SWEET PUMPKIN REMINDS ME OF A HOT WEETABIX TASTE!
19h diner : chou fleur et courgettes sautés avec 2 tranches de rôti de porc accompagné d'une sauce à l'échalote, suivi d'un yaourt Taillefine 0% aux nectarines.
SAUTEED CAULIFLOWER AND COURGETTES WITH 2 SLICES OF ROAST PORK ACCOMPANIED BY A LIGHT SHALLOT SAUCE, FOLLOWED BY A LOW-FAT YOGHURT. DELIGHTFULLY DELICIOUS.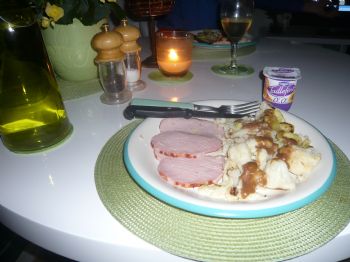 Bilan de la journée : une excellente journée, pas de vrai faim ni fatigue, bonne morale.

Est-ce que j'ai relevé les 2 défis que je me suis donnée aujourd'hui? Non, malheureusement, je n'ai pas pu faire du ménage aujourd'hui du tout et j'ai bu seulement environ 75cl d'eau (les autres boissons consommées étaient des thés). Tant pis! Mais comme j'ai fait mon Welllbox ca a pris pas mal de temps.

GREAT DAY DIET-WISE!

DID I MEET MY 2 GOALS TODAY? NO. NEITHER THE HOUSEWORK (DID THE WELLBOX INSTEAD) AND DRANK ONLY 75cl INSTEAD OF THE 100cl AS AIMED FOR. AH WELL, WILL HAVE THE SAME 2 AIMS FOR TOMORROW, TILL I'VE MASTERED THEM!