I found this link about vegan and raw foods
www.mindbodygreen.com/0-
14126/the-7-habits-of-high
ly-effective-plant-eaters.html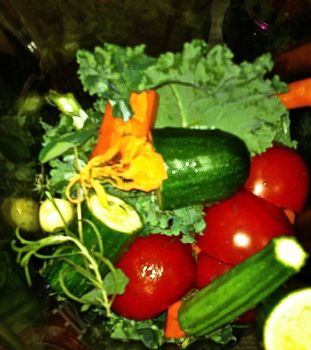 Smoothie Soup To Be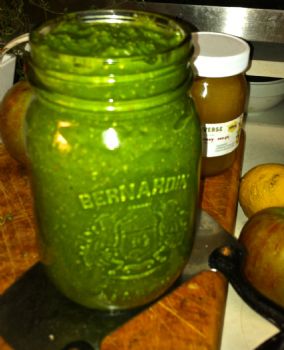 Smoothie Soup To Go
What I like about the soup I made above is that it is super healthy. I made a chaga mushroom tea using a chunk of chaga and letting it brew in hot water overnight. I used the tea as a base for my raw soup. Here's what I put into it (chaga broth, kale, tomatoes, zucchini, carrots garlic, rosemary, thyme, lemon juice, salt and chilli flakes). I've been having it at room temperature throughout the day at the studio where I'm grading and catching up on schoolwork when I feel I need a bit of a lift.
I visited Toronto nutritionist, Joy McCarthy, yesterday and came home with renewed confidence that I can do better than I have been doing diet-wise. I have been following Joy on facebook and twitter and joined in on two separate groups she led that I really enjoyed last year. Here is Joy's website.
www.joyoushealth.ca/
She has some amazing recipes (her new book is coming out soon) and great tips on her blog. She is truly a Canadian treasure. She is good friends with Julie Daniluk, another Toronto nutritionist who is leading the way for us in these regards as well. I attended a lecture of Julie's in January 2012 and purchased her book to help me with food selections.
Since joining Sparks, I have done better than I would have ever done without having joined. I've been able to access information on this site that has been invaluable and in doing so, I've been spurred on to learn more. Life gets in the way sometimes though and old habits creep back in. They are comforting and I fall back sometimes. Actively learning since I made the decision to join Sparks and head in a healthier direction was a first step forward for me and for this, I'll forever be grateful.
Going to see Joy yesterday was something I've wanted to do for awhile. I know I haven't been blogging as routinely as I had been in the past. It hasn't meant I've fallen off the wagon entirely though. I went through a few challenges last year but did my best to continue to pursue a healthy lifestyle. In January/February 2013, I participated in Joy's 10 Day Detox Workshop and in March/April, I joined in on her 21 day Eat Clean Body Lean Workshop. As a result, I managed to heal some new gastro issues I was experiencing so I was very impressed and knew I needed to address nutrition on a deeper level afterwards. Since doing both workshops, I have managed to get a lot of sugar out of my diet but I know I still have farther to go. I had eliminated gluten but it has crept back in and so I am going to address this again.
Something Joy said that I think will be going a long way in helping me get my meal plan together each week was to prepare 3 meals for the week and divide them up to have twice a week for dinners and to throw in a left over lunch ... this puts me in good stead for the week so long as I make my smoothie in the mornings and throw together a salad with my meals. Thinking about it this way takes away the complications of trying to come up with so many different meals. I think this is going to be very helpful.
I'll let you know!
Hope everyone is enjoying Fall.