Hello again. Welcome to the continuing saga of "My European Adventure".
On September 22nd, Joanne and I had to get up very, very early to catch our flight. It left Billund at 6:20 am and we were staying about 40 minutes away. It's a good thing we stopped by the Billund airport the day before to find out where to go and where to drop the car off. We would never have made it to the flight on time if we hadn't.
We landed at Standsted airport in England about 7:50 am UK time (2 1/2 hours later), picked up our car and drove to our hotel in London. At this time, I should point out that my husband gave me a Samsung Galaxy Note for my Christmas present last year and we would have been totally lost without it. It has a GPS program on it that works using satellite. I couldn't do searches on it without the Internet but all we needed to do was see where we were and we were able to figure out which roads to take to get where we wanted to go. Mind you - even with the GPS, we managed to get lost a few times...
For the 2 days we stayed in London, we parked the car and took buses and subways to get where we wanted to go. We took the HOHO (Hop On Hop Off) tour again as we did in Copenhagen. It's really a very nice city and the HOHO gave us a good idea of what we wanted to see while we were there.
Here are some of the things we did see:
Tower Bridge:
The Tower of London: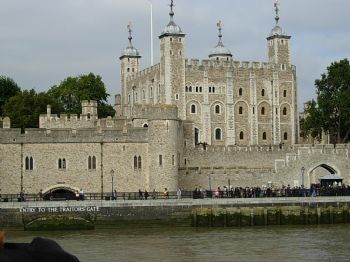 Houses of Parliament and Tower clock, better known as Big Ben:
The London Eye: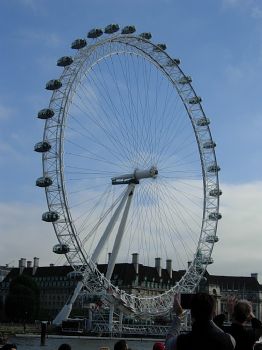 We also took a cruise on the Thames River. It was really nice. While we were waiting for our cruise ship, we had a little excitement. The police went racing past and came back shortly afterwards with a very wet passenger. We still aren't sure if the guy they dragged from the river fell in or jumped! But he sure didn't look too good. I wonder how he's doing now?
We checked out of our hotel on the 24th. We went out to our car, but discovered that it wouldn't start. We couldn't even open the trunk! We didn't know what to do, but thank heavens we had decided to purchase a cell phone while we were there. We were able to phone the car company and in about 30 minutes, Europe AA showed up to help. The girl, Sonny, was really helpful. She charged the battery, ran a diagnostic, and couldn't find anything whatsoever wrong with it. She said that since it was an automatic, it probably hadn't been driven in a long time because people in England usually drive standard, so the battery hadn't had time to charge properly in the short time we drove it from the airport. She couldn't find another car for us, so we chanced it and took the one we had. We were lucky that nothing else happened for the rest of the time we had it, so I expect she was right in her assumption.
Anyway, after our late start, we drove East on the M12 to get out of London, expecting to go North onto the M25 and drive around the North side of city. Well, guess what - we missed the turn off and about an hour later, we realized we weren't going to find another one, so we turned around the first chance we had and drove back. And - you've probably guessed it - we missed the turn off again and ended up going around the South side of London (the long way around), paying a toll of 2 GBP at the bridge, and eventually we got away from the city. By now we are about 3 hours later than we wanted to be, so we decided to miss a couple of the sites we had planned to see. But we did stop by and see Stonehenge.
You know - I've seen the pictures and always thought "so big deal - a bunch of stones". But really, when we drove over the hill and I saw Stonehenge in the distance, I couldn't believe how it affected me! It was just truly amazing to see! I hope I never forget that image, because we weren't able to stop to take a picture of it.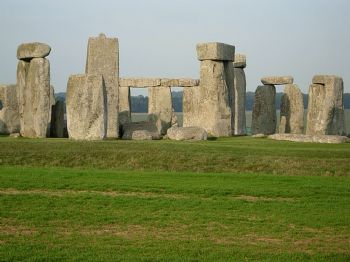 After about an hour, we continued on our journey to Milverton in the Somerset area in south West England. That's where Joanne's husband's cousin lives. While we were there, we stayed at the Globe Inn. We explored this area for a couple of days, driving on roads like this: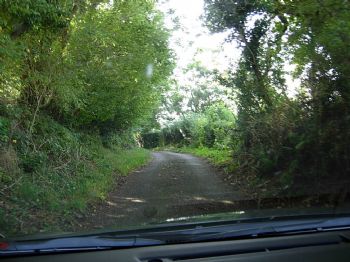 These are two way roads, and when a vehicle is coming your way, both of you have to slow down and move over to be able to pass each other. The hedges on either side were usually really tall and well trimmed. Well, let me tell you, we discovered very quickly that we did not EVER want to drive in this part of England after dark, ever again. There are no street lights and it gets very, very dark after about 5pm. You can't see anything - even with your headlights on. It really makes for very scary driving. I was shaking by the time we got to Milverton because I was driving - Joanne hadn't got up the nerve to try it yet.
We were wondering how the hedges were kept so neat when we found the tractor that did it. It was really interesting watching them.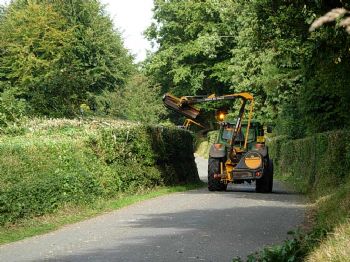 Here are a few of the places we explored in this area of the country:
Cleeve Abbey: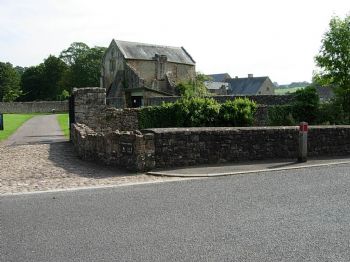 Dunster Castle: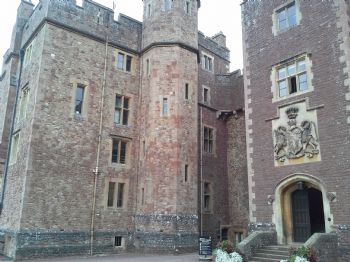 Knighthayes Court: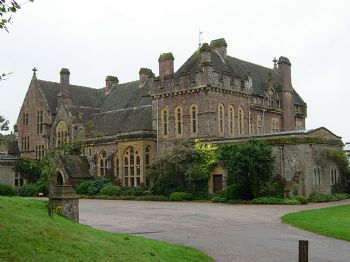 Tiverton Castle: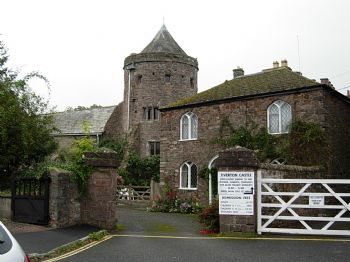 They were all beautiful places to see. Of them all - I thought Knightshayes Court was the most beautiful, but Tiverton Castle was the most interesting because of the tour guide we had. She was very knowledgeable about the history of the place and made it very interesting for us.
The next day we left Milverton, after a nice breakfast with Joanne's relatives and headed towards Bath. But I'll leave that for blog # 4.