Friday, October 18, 2013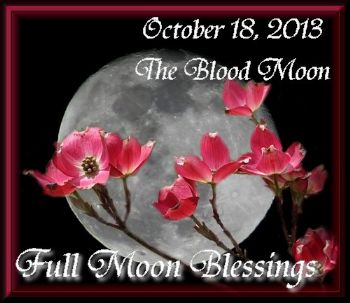 The Full Moon in October is known as the Blood Moon, the Moon of the Falling Leaves, the Shedding Moon, the Harvest Moon, the Ten Colds Moon, and the Moon of the Changing Season.
Herbs associated with this moon include Angelica, Apple, Catnip, Cherry, Cypress, Marigold, Strawberry, and Thyme. Colors of the Blood Moon are Blue and Green. Deities of this moon include Astarte, Cernunnos, Demeter, Hathor, Ishtar, Persephone, and the Horned God.
With the Sun in Libra, the Full Moon will fall under the domain of its opposite – Aries. Magick enacted at this time should focus on the elements of Air and Fire, social grace, finding new friends, and adding passion to your romance or finding a new romance as well as art, beauty, creative projects, conflict resolution, cooperation, fairness, originality, communication, courtesy, and partnership of all kinds.
~*~*~
More like this at
www.facebook.com/awaywi
ththefaereiki