I was sitting in my office at home and reflecting on the last 3 years and it finally dawned on me that I really DO need a break from my routine. I was so focused on pounding out one event after another, so focused on the carrot of another accomplishment, that I never really realized just how HARD I was driving myself. Maybe this whole "downer" episode was simply my body's way of crying uncle.
The whole point of this lifestyle transformation is to lead yourself beside the still waters, not beat yourself into submission.
I took a look at my "woo hoo wall". My woo hoo wall is a special place in my man cave where I hang my trophies. It isn't a place where I brag about what I have done for very few people in my world have seen it. It is a place where I am reminded of the strength I had to do what I did and that, YES, it was ME that crossed the line. Although it is not scripture, I have often envisioned King David being discouraged about something and then, upon seeing the sword of Goliath hanging there, being reminded of what faith he had that day and how he was the victor.
Same here.
While they are not swords, these trophies all represent something huge...
Allow me to share... I'm just doing this to encourage myself so bear with me.
Medals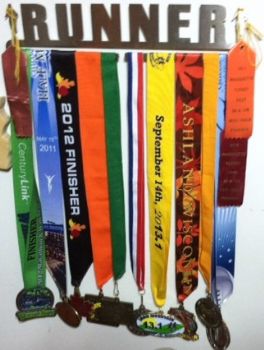 First Half Marathon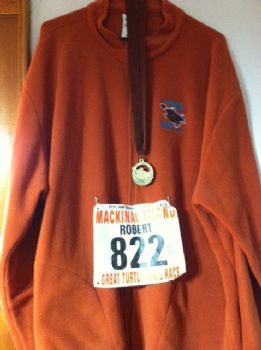 First Marathon
First Sprint Triathlon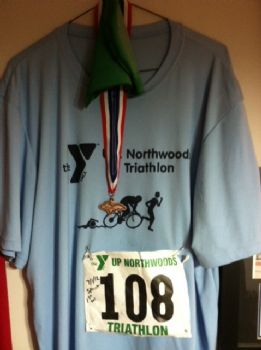 First 70.3 (70.3 mile triathlon - 1.2 mile swim, 56 mile bike, 13.1 mile run)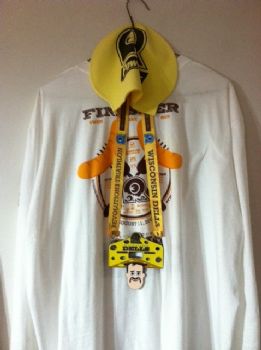 First Long Course open water swim - 2.25 miles Teal lake swim (1hr:41 min)
-even got my picture taken with an Olympic Gold Medalist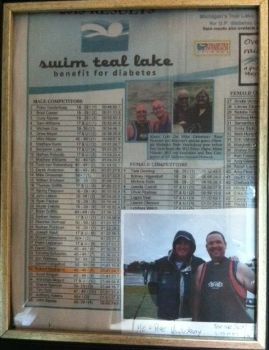 Wall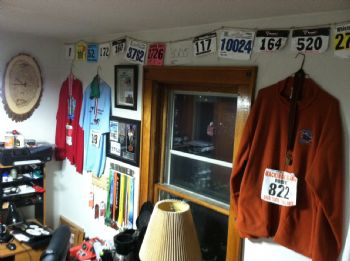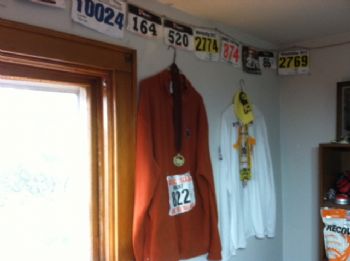 What really gives me pause is that in the time it took to do all of this, the volume, distance, and intensity has been off the charts. I rapidly came up through the ranks, especially in triathlon. I taught myself how to swim and went from choking on pool water after a couple of laps to taking on a Sprint, a 70.3 and a long course open water swim where I would have finished well below what would have been the swim cut off for the Ironman. When it came to running, I went from huffing and puffing while counting mailboxes to finishing 26.2 miles
-also with some huffing and puffing ;)
I have pushed myself HARD and have done a total of 23 events in 3 years almost exactly and I realize now just what kind of a toll that such a rapid advance has taken on me. I've made some pretty broad jumps, especially for being an everyday athlete.
I believe that this is what has really given me a backbone and the stick-to-it-iveness but it is time to be realistic. If I were training someone, I would never push them as hard as I have pushed myself. I am not Superman.
I guess I said all of this to say this, I am not quitting running or triathlon. I have just finally come to a sense of maturity that says that I cannot out run my demons. I don't have to prove anything so slow down and build myself up both inside and out.
My dream has always been to do an Iron distance triathlon (140.6 miles). In order to work to that level, everything has to be in balance. It takes an elite level of self management, training, and fitness just to make it to get to the starting line much less to the place where they hang a medal around your neck.
It is a mountain I want to climb. While it now stands in the realm of someday, I often look through my minds eye what the view from the top must look like. To breathe the air that few experience, to take in the achievement, to know that I did it. To go from a total couch potato to elite athlete.
The reasons why are deep, visceral, and hard to explain to a casual reader. It's one of those things that come with both a burning yes and also a sense of quiet resolve that shows in the day to day grind.
Something like this is a calling. Even when I was down, my mind would drift and visualize what it has got to feel like to cross THAT finish line. to know that in every sense you are a champion. Feels more like an inevitable destiny, I was born to do this, but to do it, I have to be smart about it.
I'm rambling now... sorry... I'll stop. I went from blogging to dreaming out loud, or are both one and the same?