Positive and negative days. Ups and downs. Success and the failures. That is what our journey's are made of. Our journey's have more potholes, exit ramps, and tollbooths than the New Jersey turnpike. If we want success, we must deal with all of those obstacles. We dodge potholes. We skip past exits. We pay the tolls even if we have to turn our pockets inside out or dig in the car seats for some change. Why? Because if we want our journey to be defined by our success, then we stay on the road!
That doesn't mean we won't hit the occasional pothole and have to stop to change the tire. That doesn't mean that we won't get off an exit for gas only to find we venture away from the highway a bit longer than expected. That doesn't mean that we can only find $1.50 for the toll when $2.00 is needed so we have to dig deeper. Stuff happens. It has happened to you and it has happened to me.
Unfortunately, I had to stop and change a tire recently. I had to find my way back to the highway after I ventured off an exit. I had to dig a little deeper for that change to continue along. Like I said, stuff happens.
Back in August, I weighed in at 294.1 lbs. I set a goal to be at 279 lbs by October 17th (today, my 35th birthday). Since starting back at SP in May 2012 at 466 lbs., I had hit very few potholes and had ample change to pay my tolls. So I cruised along with the top down going 70 mph! Life in the weight-loss lane was great! I did the Rugged Maniac 5k on September 14th and I was feeling on top of the world!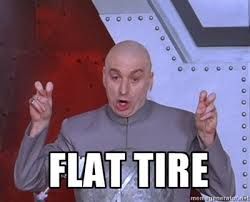 Since September 14th, I apparently got a flat tire. I would get going really well, only to hit a pothole and have to go back to the shop to fix my tire. Physically there wasn't anything wrong with me. The problem was all between my ears. It was that mental side which is just as hard, if not harder, than the physical part. This happened to me back in April as well after I worked so hard to lose weight for my cousins wedding so I would be "looking good" in my tux. I thought that since making my overall original goal that times like that were behind me, but I was wrong. I didn't crash the car or even think about turning around completely. Never! But I was not in fifth gear. It seems that I need that "event" to work towards to keep me more motivated. I need that "event" to keep me driving in the fast lane!
I fought that mental monster that we all deal with. The one who says, "it is only one meal". "One day". "You will do better tomorrow". "I am tired so I will skip exercise today but I will do it twice tomorrow". I fought it every day for the last month.
Last week I wrote a blog called "Remember". I really do love that my story and my journey can inspire and motivate people. That is very humbling and I am deeply honored by that but that blog was as much for me as it was for anyone else. I needed to remember that struggle! I needed to remember that fight! I needed to remember what I have done and what I needed to do!
After I wrote it, I felt like a different person. I felt like the potholes were paved again. I felt like I had found the on-ramp back to the turnpike. I felt like I had change back in my pocket!
So I only lost 1 lb. in about 2 months and I missed my goal for the first time in a really, really long time. That is a tough pill to swallow but I won't let it keep me down. After all, the scale is still going in the right direction. I will focus on the positives like my streak of drinking at least 10 glasses of water a day is now at 478! I have logged nearly 16,000 fitness minutes this year! I have still lost 216 lbs and I will keep pushing towards the 280's!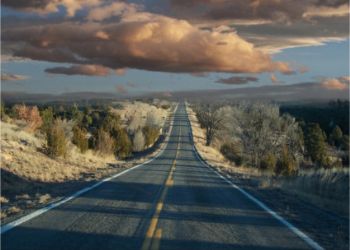 I have the top down, and the sun is shinning bright! There is nothing but open highway ahead! Let's set the cruise control and roll on, there is plenty of room...
Embrace Your Possibilities
Good Day Sparkville